Ferdinand

| EducationGhana |September 08|Triumphant Ponponya Fantem D/A Basic School Students Harvest Onions from School Farm
 "Discover the inspiring success story of Ponponya Fantem D/A Basic School as students reap a rich harvest of onions from their school farm. Explore this incredible initiative that deserves commendation, showcasing the dedication of the headmaster, teachers, staff, and pupils of Fantem."
Ponponya, Ghana. Ponponya Fantem D/A Basic School in the Upper Manya Krobo District is one of many schools in Ghana that have implemented school farms. These farms provide students with hands-on experience in agriculture and teach them about sustainability.
In an inspiring display of agricultural success, the students of Ponponya Fantem D/A Basic School, located in the Upper Manya Krobo District, have harvested a plentiful supply of onions from their school farm.
This impressive achievement reflects the dedication and innovative spirit of the school's administration, teachers, and enthusiastic young scholars.
The initiative aims to provide practical agricultural education and has yielded significant benefits beyond the academic realm.
Under the guidance of their devoted staff, these hardworking students have cultivated not only onions but also valuable life skills and a profound appreciation for the environment.
The headmaster of Ponponya Fantem D/A Basic School, who has been the driving force behind this project, deserves special recognition for his vision and leadership.
His unwavering commitment to empowering the students with practical knowledge has paid off. The teachers have also played a crucial role in nurturing the students' passion for agriculture and instilling a sense of responsibility.
The school's farm has become a symbol of community support and cooperation, as locals rally behind this inspiring endeavor. It demonstrates the positive impact of education beyond textbooks, enriching the lives of these young students and their communities.
In conclusion, the staff and students of Fantem have excelled in this remarkable educational initiative.
Their onion harvest serves as a shining example of what can be achieved through dedication, innovation, and community involvement.
This accomplishment inspires positivity and underscores the immense potential of young minds in the right environment. Congratulations to Ponponya Fantem D/A Basic School for this extraordinary achievement.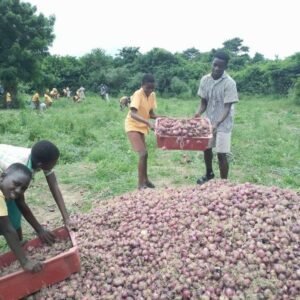 GET THE LATEST UPDATES IN EDUCATION IN GHANA
---
OTHER INSTITUTIONAL RANKINGS YOU SHOULD KNOW
---
OTHER INSTITUTIONAL RANKINGS IN AFRICA FOR YOU
---
UPDATES ON THE TEACHERS' NOTICE BOARD
---
OTHER UNIVERSITY AND COLLEGE ADMISSIONS NEAR YOU
---
APPLY FOR THE LATEST SCHOLARSHIP OPPORTUNITIES NEAR YOU
---
2ND TERM SCHEME OF LEARNING AND LESSON PLAN FOR TEACHERS
---