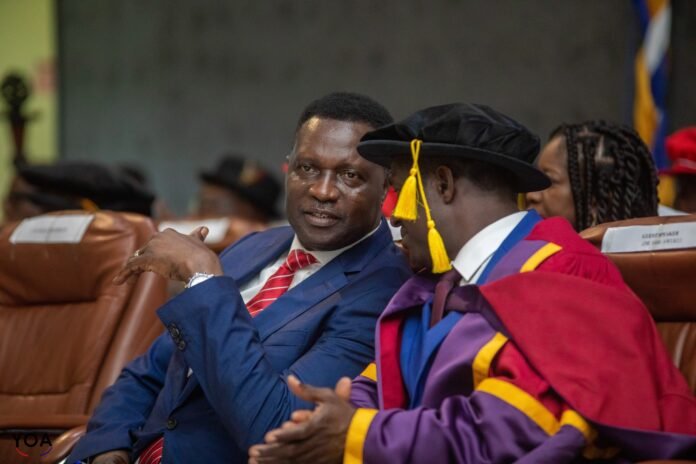 Ferdinand

| EducationGhana |July 14|Committee Inaugurated to consider the Integration of GTLE into University and College Exams
The Minister of Education,  Dr Yaw Osei Adutwum, has tasked a 7-member committee to consider the integration of the Ghana Teacher Licensure Examination (GTLE) into teacher education institutions, including Colleges of Education.
This move aims to enhance the quality of education and ensure that qualified graduates are admitted into public teacher education institutions.
The minister also highlighted the formation of a committee to examine teaching best practices, evaluate the admission process, and make recommendations for necessary actions.
A seven-member committee, chaired by Deputy Education Minister John Ntim Fordjour, has been established to oversee the integration process. Dr Adutwum emphasized that the committee would explore global teaching best practices, evaluate the quality of students admitted to teacher education institutions, and consider the alignment between students' grades and their specialization programs at senior high schools.
The committee's composition is diverse and inclusive, with representatives from both public and private colleges of education, as well as professionals from the Ministry of Education and academic institutions.
These experts are:
John Ntim Fordjour, Deputy Education Minister
Prof. Samuel Atintono from Accra College of Education
Rev Msgr Louis Kofi Tuffour from Christ The Teacher College of Education
Mrs Mamle Andrews from the Ministry of Education
Prof. Jonathan Fletcher from the University of Ghana
Prof. Eric Anane from the University of Cape Coast
Mr Lawrence Sarpong from the National Teaching Council (NTC).
Dr Adutwum specified that the committee has been given four weeks to conduct its assessment and submit a comprehensive report to the Ministry of Education's leadership.
The report's findings and recommendations will serve as the basis for implementing necessary reforms and improvements within the teacher education system.
As part of the broader effort to ensure qualified graduates are admitted to government teacher education institutions, Dr Adutwum mentioned the possibility of introducing an entrance assessment as an additional component of the selection process.
This assessment would help evaluate the candidates' aptitude and suitability for the teaching profession, ensuring that only the most qualified individuals are accepted into the programs.
GET THE LATEST UPDATES IN EDUCATION IN GHANA
---
OTHER INSTITUTIONAL RANKINGS YOU SHOULD KNOW
---
OTHER INSTITUTIONAL RANKINGS IN AFRICA FOR YOU
---
UPDATES ON THE TEACHERS' NOTICE BOARD
---
OTHER UNIVERSITY AND COLLEGE ADMISSIONS NEAR YOU
---
APPLY FOR THE LATEST SCHOLARSHIP OPPORTUNITIES NEAR YOU
---
2ND TERM SCHEME OF LEARNING AND LESSON PLAN FOR TEACHERS
---