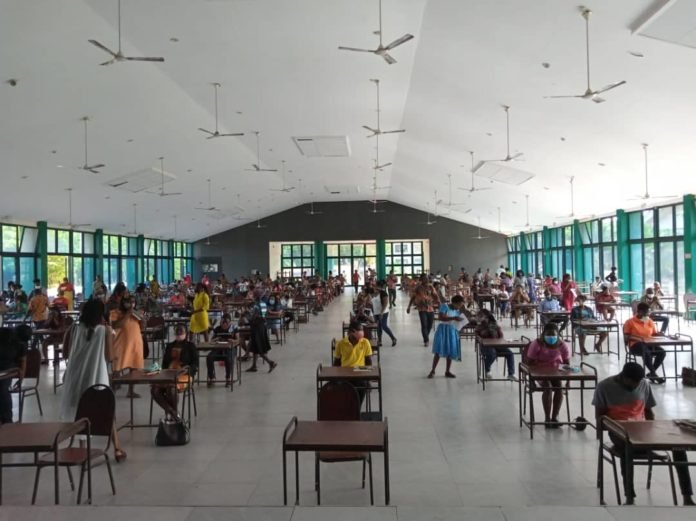 Ferdinand

| EducationGhana |July 04|Reconsider your decision to Increase the Teacher Licensure Exam Pass Mark to 70% – TTAG to NTC
The Teacher Trainees Association of Ghana (TTAG) has appealed to the National Teaching Council (NTC) to reconsider its decision to raise the pass mark of the Ghana Teacher Licensure Exams (GTLE) from the current 50 per cent to 70 per cent.
This move by TTAG highlights their concern for the future of teacher trainees in Ghana and showcases their dedication to ensuring a fair and inclusive examination process.
---
NTC Introduces Indexing System for Trainee Teachers as Part of GTLE Reforms
Colleges of Education can not add GTLE to their Internal Examinations – PrinCof
Displaying Marked Scripts of failed GTLE Candidates on Social Media Unethical and Unprofessional – Ellis Ferdinand
---
TTAG believes that the sudden increase in the GTLE pass mark could have adverse effects on aspiring teachers. Understanding the importance of the licensure examination in shaping the future of teachers in the country, TTAG has reached out to the Minister for Education and other relevant stakeholders to intervene and negotiate with the NTC on behalf of the teacher trainees.
The decision to reform the GTLE and raise the pass mark to 70 per cent was announced by the Registrar of NTC, Christian Addai-Poku. This reform is set to take effect from the current academic year, replacing the traditional GTLE, which had a pass mark of 50 per cent.
---
GTLE 2018 Solved Numeracy Questions Hand Written -Part 2
GTLE 2018 Solved Numeracy Questions Hand Written -Part 1
GTLE: Top 25 Practice Test Questions and Answers on Essential Skills
---
As per the Registrar's statements, the upcoming September 2023 reformed GTLE will consist of multiple-choice questions for each subject. This change in format aims to provide a standardized and comprehensive assessment for pre-service teachers from tertiary education institutions across the country.
TTAG's petition is rooted in the concern for the well-being of teacher trainees and the potential impact of a sudden and significant increase in the GTLE pass mark.
The association argues that such a high pass mark may disproportionately affect aspiring teachers who have undergone years of rigorous training, as it places an added burden on them to achieve the higher threshold.
TTAG believes that this move may discourage talented individuals from pursuing a career in teaching and result in a shortage of skilled educators in the country.
The Teacher Trainees Association of Ghana acknowledges the importance of maintaining high standards for the teaching profession. However, they urge NTC to consider a balanced approach that takes into account the abilities and preparedness of teacher trainees.
TTAG proposes that a more gradual increase in the pass mark would provide a fair and realistic transition, allowing aspiring teachers to adapt and excel in their chosen profession.
GET THE LATEST UPDATES IN EDUCATION IN GHANA
---
OTHER INSTITUTIONAL RANKINGS YOU SHOULD KNOW
---
OTHER INSTITUTIONAL RANKINGS IN AFRICA FOR YOU
---
UPDATES ON THE TEACHERS' NOTICE BOARD
---
OTHER UNIVERSITY AND COLLEGE ADMISSIONS NEAR YOU
---
APPLY FOR THE LATEST SCHOLARSHIP OPPORTUNITIES NEAR YOU
---
2ND TERM SCHEME OF LEARNING AND LESSON PLAN FOR TEACHERS
---