Ferdinand

| EducationGhana |June 17|How to Calculate CGPA at UCC, UG, UEW, KNUST and UDS in 2023
What is GPA?
Considering studying abroad in the US? You will read a lot about GPA, so here is how to calculate your GPA and when you might need to use it for applications.
GPA is a system used in high schools and universities, mainly in the US, to measure a student's performance and academic achievement. GPA is calculated by converting grades or percentages you receive for an assignment (A, B, C etc) to a corresponding point on the GPA scale (more information on this is below).
There are some ways to calculate your GPA – if you have been studying at a school in the UK for example – for your university application to the US, by using a GPA calculator.
What does GPA stand for?
GPA stands for "grade point average" and is usually calculated using a scale of 0 to 4. Four is usually the highest GPA you can receive and corresponds to an A grade, and 0 corresponds to an F grade.
---
---
How to calculate GPA?
Students receive a grade or a percentage for each assignment, project and exam. Those grades are then converted to the corresponding GPA points which are added together and divided by the number of units or credits in each class to calculate the average score for the semester. This provides the average GPA.
Some institutions award GPAs higher than 4 using a weighted scale, taking the difficulty of coursework and assignments into account rather than just considering the final grade. More information on a weighted vs unweighted GPA can be found below.
What is a good GPA for university?
Your GPA at university will depend a lot on which university you attend and which major you are studying.
The average GPA for a course that is considered fairly challenging is usually 2.75 upwards.
When applying for jobs after university, employers may or may not ask for your GPA, but having a higher GPA will show your future employers that you are hard-working and motivated.
It is also worth remembering that some scholarship programmes and some university courses require you to keep your GPA up in order to continue to receive financial aid. So be sure to check if there are any GPA requirements that you need to adhere to throughout your time at university.
Your GPA for your undergraduate degree will also be looked at if you choose to apply for a master's or PhD programme. Some postgraduate programmes may look for a GPA of 3 or above, but again this will vary based on the course and the university you are applying to.
What is cumulative GPA?
A cumulative GPA is the average of all the GPAs you have achieved while at high school or university. In other words, it combines all the GPAs you have received for each semester to create one representative GPA of your time at high school or university.
The higher your semester GPAs are, the higher your cumulative GPA will be.
Prospective universities will often ask for your high school cumulative GPA as part of the application process. Prospective employers may also ask for your cumulative university GPA, as it is a good measure of a student's academic grades.
Cumulative GPA is also sometimes known as the overall GPA or average GPA.
What is a weighted GPA?
A weighted GPA is the grade point average that takes into account the difficulty of the course alongside the student's grades. As more and more students are taking advanced programmes, the weighted GPA aims to reflect a student's work in these courses.
While the unweighted GPA scale can only go up to a 4, the weighted GPA scale is between 0 and 5. So students that take more difficult and advanced courses might find that they score a higher GPA than the perfect 4.
Having a weighted GPA can show employers and universities that you are willing to take on more challenging courses.
How do you calculate a weighted GPA? One of the easier ways to calculate a weighted GPA is to calculate your average unweighted GPA and then divide that by the number of classes you took. Then add 0.5 for each mid-level class and 1 for each advanced class (you can check with your teachers if you aren't sure). Then divide that result by the number of classes you took.
There are also GPA calculators that can help you calculate your weighted and unweighted GPAs.
Are there ways to improve your GPA?
A student's GPA is calculated using all the grades they receive throughout their time at high school or university. If you are concerned about your GPA, you can do a few things to improve it:
– Ask for help: your teachers might be able to assist you by explaining a topic in another way to help you gain better marks in a course.
– Changing your study habits: altering your focus can help you retain more information and do better in assessments.
– Taking on more of a challenge: a lower score in a top-tier class has a stronger weighting than a high score in a lower-tier class.
– Extra credit: some teachers will assign additional tests or assignments to give students a chance to improve. But remember that overall grades are still divided by the number of units of work you complete.
How important is a good GPA?
A good GPA can show employers and universities that you are hard-working and motivated to do well in your studies. It is a good measure of how you perform academically, but it is not the only factor that universities will look at in your application.
Universities will also look at your personal statement and the commitment that you show to your chosen course or any extracurriculars or work experience you carried out. Everything that you do at school paints a picture of the kind of student you will be, so it's important to ensure that you take all the opportunities that come your way while at school and university.
Student Assessment at the University of Cape Coast (UCC), Ghana
The University operates a combination of Continuous Assessment and End-of-Semester Examination with the following weightings.
| | |
| --- | --- |
| CONTINUOUS ASSESSMENT | 40% |
| END-OF-SEMESTER EXAMINATION | 60% |
The Continuous Assessment component consists of take-home assignments, class quizzes and tests, term papers, and practical work.
This component gives students the chance to demonstrate their abilities on a wider variety of learning tasks and a broader variety of work environments than is possible under formal examination conditions.
For example, through continuous assessment, students can learn the values and processes of teamwork, plan and solve real-life problems. There shall be a minimum of two (2) Continuous Assessments per course per semester.
Duration of End-of-Semester Examinations
The duration of end-of-semester examinations is determined by the credit weighting of the course as follows:
| Credit Weighting | Duration of Examination |
| --- | --- |
| One-Credit Course | 1-1½ hours |
| Two-Credit Course | 1½-2 hours |
| Three-Credit Course | 2-3 hours |
| Practical Courses | 2-3 hours |
Grading Scale
The University uses letter grades and corresponding numerical weightings which reflect the quality of performance. Total raw scores (combination of continuous assessment and end-of-semester examination) are converted according to the following scheme:
| Raw Score | Grade | Grade Point | Interpretation |
| --- | --- | --- | --- |
| 80 – 100 | A | 4.0 | Excellent |
| 75 – 79 | B+ | 3.5 | Very Good |
| 70 – 74 | B | 3.0 | Good |
| 65 – 69 | C+ | 2.5 | Average |
| 60 – 64 | C | 2.0 | Fair |
| 55 – 59 | D+ | 1.5 | barely satisfactory |
| 50 – 54 | D | 1.0 | Weak Pass |
| Below 50 | E | 0 | Fail |
Other Grades
Audit – The grade point is zero.
Incomplete (IC) – A student is graded IC when he/she misses one or more components of the assessment.
NOTE
It is the responsibility of students to ensure that all ICs are rectified
An IC should be rectified within 2 weeks after the release of end-of-semester examination results
An IC not rectified after the deadline will be converted to the corresponding grade.
Display of Results
End-of-Semester examination results shall be posted in students' portals before the re-opening date of the following semester.
All continuous assessment results shall be displayed on the departmental notice boards two (2) weeks before the start of end-of-semester examinations.
Computation of Grade Point Average (GPA) and Cumulative Grade Point Average (CGPA)
A sample of how the computation is done is presented below:
2023/2024 SEMESTER 1
| Code | Description | Credit Point (CP) | Letter Grade | Grade Point (GP) | CP×GP |
| --- | --- | --- | --- | --- | --- |
| Eco 101 | PRINCIPLES OF ECONOMICS 1 | 3 | B | 1 | 9 |
| LSB 104 | BUSINESS INFORMATION SYSTEMS | 3 | A | 2 | 12 |
| EPS 111 | PSYCHOLOGICAL FOUNDATIONS OF EDUCATION | 3 | C | 1.5 | 6 |
| CMS 107 | COMMUNICATION SKILLS | 3 | B | 2 | 9 |
| ASP 102A | RELIGION IN AFRICA | 3 | A | 2 | 12 |
| GPA | CGPA: Total Credits: | 15 | | | 48 |
| GPA/CGPA | : | | 3.2 | | |
Total (CP×GP)

GPA=Total (CP)

=

=3.2

The sum of the product of credit points for a course (the course weighting) and the grade point for the course divided by the sum of the course weightings for all courses on the semester.
In computing the Cumulative Grade Point Average (CGPA) all the courses are treated as if they were taken in one semester.

Note: Cumulative Grade Point Average (CGPA) is not the same as the average of GPAs for the various semesters

CGPA=
Degree Classification
Undergraduate degree programmes are classified according to the candidate's Cumulative Grade Point Average [CGPA]. The classifications are as follows:
| CLASS DESIGNATION | C.G.P.A. |
| --- | --- |
| 1st Class | 3.6 – 4.0 |
| 2nd Class [Upper Division] | 3.0 – 3.5 |
| 2nd Class [Lower Division] | 2.5 – 2.9 |
| 3rd Class Division | 2.0 – 2.4 |
| Pass | 1.0 – 1.9 |
Transcript
A transcript shall reflect all courses taken or attempted by the student (including audited courses), and the grades earned. Under no circumstance shall grades earned in a course be deleted from a student's transcript.
COMPUTATION OF THE GPA & CGPA AT THE UNIVERSITY OF EDUCATION, WINNEBA
Variables Needed for Computation
i. The following shall be required for the calculation of the Numerical
Representation of Academic Performance:

See the TRANSCRIPT below.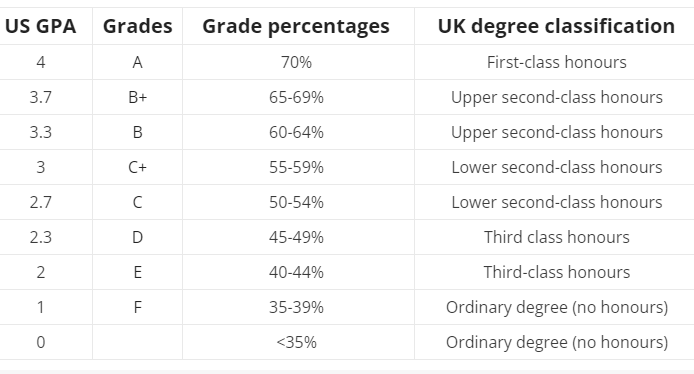 Calculating the Weighted Grade Point (WGP)
The figure below shows the weighting for scores (i.e., raw
examination marks) used for calculating the Weighted Grade Point
(WGP)
The Weighted Grade Point (WGP) = Grade Point for Letter Grade x Credit Hours for the course
Calculation of the CGPA
Total Grade Point for a semester (TGP) = Sum of all WGPs for theSemester Semester Grade Point Average (SGPA) = TGP ÷ Sum of Semester's Credit Hours (TCR) CGPA is similar to SGPA, taking all years spent as if it were a semester.
Using the formula in 4.4.2 above, the CGPA for the student at the end of semester two on the programme shall be 2.33. Note that the first semester was 2.73. CGPA must be ≥ 1.00 to progress from level to level.
GPA for Trailing and Repeating Courses
If a student passes a trailed/repeated course, both grades will appear on the student's transcript and will be used in the computation of his/her academic performance.
For instance, a 3-credit course with an 'E' grade (i.e., GP=0) on the first attempt, and an 'A' grade (i.e., GP=4) on the second attempt shall attract a total of 6 credits hours (i.e., 3 credits weighted twice) making the CR 6. This new CCR for that semester will be shown on the Transcript. The computation of the GPA, therefore, becomes 4 ÷ 6 = 0.66.
HOW TO CALCULATE CGPA AND FGPA AT THE UNIVERSITY OF GHANA, LEGON
CALCULATION OF CGPA
• This is for the total semesters a student has taken examinations in the university
• All levels carry equal weight
• CGPA= Total GPTs of all courses taken/ Total Number of Credits of all courses taken
• Assuming you've taken the examination in Level 400 the second semester, the GPTs and Credits will be calculated from L100 first and second semesters, L200 first and second semesters, L300 first and second semesters and L400 first and second semesters.
CALCULATION OF FGPA
• GPAs for the various levels are recalculated
• All courses are calculated under their correct levels
• Every re-sit course is calculated by the number of times it is taken. Assuming a student wrote UGRC120 in Level 100 and got a grade of F, wrote again in Level 200 and got an E and wrote finally in Level 300 and got an A the course will appear three times with its respective credits and GPTs.
A weighting of 1:1:2:2 is then assigned to all the levels. This means that L100 is 1, L200 is 1, L300 is 2 and L400 is 2
• Assuming after the recalculation we get GPAs for
the various levels as follows:
L100- 3.20
L200- 3.60
L300- 2.90
L400- 3.00
Our FGPA will be calculated as below:
L100
3.20× 1/6= 0.53
L200
3.60 × 1/6= 0.60
L300
2.90 × 2/6= 0.96
L400
3.00 × 2/6= 1.00
FGPA= 0.53 + 0.60 + 0.96 + 1.00 = 3.09
Class: Second Class (Honours) Upper Division
DEGREE CLASSIFICATION
• First Class – 3.60 – 4.00
• Second Class (Upper Division) – 3.00 – 3.59
• Second Class (Lower Division) – 2.00 – 2.99
• Third Class – 1.50 – 1.99
• Pass -1.00 – 1.49
• Fail (No award) – 0.00 – 0.99
HOW TO CALCULATE CWA AT THE KWAME NKRUMAH UNIVERSITY OF SCIENCE AND TECHNOLOGY
One of the few schools in Ghana that uses the Cumulative Weighted Average, or CWA, as a grading system is the Kwame Nkrumah University of Science and Technology.
Most universities in Ghana use the Grade Point Average (GPA), so most Ghanaians are used to figuring out their GPA and often don't understand how to change their CWA to their GPA.
Find out more about KNUST's grading system and how to figure out your average grade below.
How to calculate KNUST CWA
Every semester, each student has to take between three and ten classes. In some cases, this can go up to eleven or thirteen classes. No matter how many classes you take, the credit hour should be between 16 and 21 units.
Scenario Below;
Course No. Credit Marks (Hrs)
MAS 151 3
MAS 153 2
MAS 155 2
MAS 157 2
MAS 159 2
MAS 161 2
MAS 163 2
MAS 159 3
COM 157 2
Total Cumulative Credit 20
KNUST 2023-2025 Grading System – How To Calculate Your CWA
How To Calculate KNUST Weighted Average
When you add the weighted average for the first semester to the weighted average for the second semester, you get the cumulative weighted average (CWA).
Here are the steps you need to take to figure out your weighted average.
Step 1: To get the Weighted Marks, multiply the percentage mark you got in each course by the course credit.
Step 2: Add up all the Weighted Marks that have been calculated up to the end of the semester to get the Cumulative Weighted Marks.
Step 3: At the end of the semester in question, add up all the Course Credits to get the Cumulative Credits.
Step 4: Divide the total number of cumulative weighted marks by the total number of cumulative credits to get your cumulative weighted average for that semester.
The steps shown above are shown in the table below.
Calculations of Cumulative Weighted Marks
Course No. Credit Marks (Hrs) (A) Marks (100%) (B) Weighted Marks (A*B)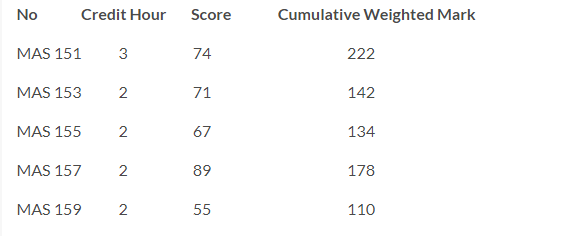 Total:                             20                           1292
The total would be divided by 20. (Total Credit Hour or Unit).
Getting your WA:
The total number of weighted marks should be divided by the number of credit hours.
WA= 64.6
The weighted average is based on the results of the first semester of year 1. The only way to get the Cumulative Average is to add the Weighted Averages of the two semesters and divide by 2.
If a student fails more than four classes each semester, they will be asked to drop out. If a student finishes the school year but still needs to retake some classes, they will have to pass those classes before they can get a certificate.
This could mean an extra semester or year, depending on the situation. Now, you should know that the KNUST grading system is not good for students who don't work hard.
If you want to do well at this highly sought-after school, you'll have to buckle up. KNUST is known for being excellent.
And now that the student used as an example has a CWA of 64.60 in year one semester one, if the student works hard the next semester, semester two, and gets, for example, 1576 with a total of 21 credit hours, that gives the student an average of 75.04 for that semester; therefore, the student's total KNUST grading system (CWA) for that year would be 1576 + 1292, which would give 2868, and this would be divided by the total number of
Students are told to pay more attention to the credit hour with the most credits. A student's score goes up when they have more credit hours.
How To Calculate Your KNUST Cumulative Weighted Average (CWA)
We've already told you how to figure out your weighted average; that's your first semester's results.
Follow the steps below to find out the Cumulative Weighted Average for the school year.
Figure out the weighted average. You can do that by following the instructions above.
Once you have your weighted average, add it to the current weighted average and divide it by the number of members.
See also Young Lady Emerges Covenant Varsity's Overall Best Graduating Student with Perfect 5.0 CGPA
Example below;
Let's say that the following are your first-year results:
First semester results – 64.6%
Second-semester results – 75%
Add the averages of the two numbers, 64.6%, and 75%, and divide by two (Semesters)
Thus, 139.6/2 =69.8
So, your overall weighted average is 69.8, which, according to the KNUST Grading System, is a second class (upper).
KNUST Grading System for Class of Degree
The KNUST Grading system for the class of degree is the calculated points that are used to give students an award of degree. Here is the list of how these points measure up to an honours award in order of the highest to the lowest grade.
Marks Grade
70 to 100 A
60 to 69 B
50 to 59 C
45 to 49 D
40 to 49 E
0 to 39 F
Grade Classification
First-class; a CWA of 70.00 and above
Second class upper, a CWA of 60.00 to 69.99
The second class lowers a CWA of 50.00 to 59.99
Pass a CWA of 40.00 to 49.99
KNUST Grading System

At the end of all your years of school, you can't graduate if your total weighted average is less than 40. For students to graduate from KNUST, they have to get at least a 40%.
The same grading system is also used by students at the Institute of Distance Learning. They cover the same curriculum and take the same tests as regular students, but they get to study away from the main campus of the university.
We hope the information provided in this guide on how to calculate the CWA, KNUST 2023-2025 Grading System has been useful.
How to Calculate CGPA in the University for Development Studies, UDS
Student performance in a course shall be recorded in letter grades after due conversion from percentage score as follows:

2. A grade I shall be awarded to a student who is unable to complete a course
for reasons adjudged by the Board of Examiners as satisfactory. Such a
student shall be expected to complete the course at the next available
opportunity without penalty.
iii.
Each course shall be graded out of 100 marks (including continuous
assessment marks). For most taught courses, final examinations shall
account for 75% of the total marks.
iv.
A zero mark will be entered for non-registration of prescribed courses or
failed lower-level courses
and
for absence from the examination if the Board
(Faculty/School or Academic) finds reasons for absence unsatisfactory
V. A zero mark shall be awarded to any candidate involved in examination
malpractice in that subject. This is without prejudice to any other action
that may be taken by the University.
Grade Points:

Course marks shall be assigned the following Grades and

Grade points

The following letter grade may also be assigned
I – Incomplete
Z – for involvement in Examination malpractice
Minimum Pass Grade:

A student is required to obtain a minimum pass

grade of D for each examination taken.
Computation of Grade Point Average
In each Trimester the following shall be computed from the student's course
marks:
•
Total Grade Points (TGP):

Computed by multiplying the grade
point score for each course by the corresponding credit unit, and then summed up.
•
Total Credit Units (TCU)
for all courses offered for which
the TGP has been obtained and for all other courses that are required to be offered e.g. trailed courses.
Calculated by adding
together credit values of all courses taken.
•
Grade Point Average (GPA) and Cumulative Grade Point 
Average (CGPA)
shall be computed by taking into account all
required courses offered up to the current trimester. The first GPA computation for each student shall be the same as the CGPA

For the avoidance of doubt, CGPA computations shall be calculated to two (2) decimal places.
Good Standing:
A student shall be deemed to be in Good Standing if
the CGPA is not less than 1.5 or who has not failed more than five (5) papers in a Trimester.
Classification and Award of Degree and Diploma:
Class of Degree
shall be awarded on the basis of the student's CGPA at the end of the programme as follows
Duration of a Bachelor's Degree and Diploma Programmes

:
i.
For a Bachelor's degree programme, the period allowed for completion
is four (4) to six (6) years. The date of the degree shall correspond with the end of the Trimester in which the student completed the course requirements.
ii.
For Medicine (MBChB) and Doctor of Medical Laboratory Science 
(MLS.D), the period allowed for completion is six (6) to eight (8) years.
iii.
For a Diploma programme, the period allowed for completion is two
(2) to three (3) years. iv. A student who defers a programme shall not have the deferred period counted as a year of study.
GET THE LATEST UPDATES IN EDUCATION IN GHANA
---
OTHER INSTITUTIONAL RANKINGS YOU SHOULD KNOW
---
OTHER INSTITUTIONAL RANKINGS IN AFRICA FOR YOU
---
UPDATES ON THE TEACHERS' NOTICE BOARD
---
OTHER UNIVERSITY AND COLLEGE ADMISSIONS NEAR YOU
---
APPLY FOR THE LATEST SCHOLARSHIP OPPORTUNITIES NEAR YOU
---
2ND TERM SCHEME OF LEARNING AND LESSON PLAN FOR TEACHERS
---