Ferdinand

| EducationGhana |September 16| Daffiama Tendamba D/A JHS Students Reap Bumper Harvest from School Farm Project
"Students at Daffiama Tendamba D/A JHS in Ghana have reaped a bumper harvest of tomatoes from their school farm project. The project is part of a larger initiative to promote agriculture and food security in the region."
Daffiama, Ghana. Students at Daffiama Tendamba D/A JHS in Ghana are celebrating a bumper harvest of tomatoes from their school farm project. The project is part of a larger initiative to promote agriculture and food security in the region.
The students planted and cared for the tomato plants throughout the growing season. They learned about the different stages of plant growth and development, as well as pest and disease management. The students also learned about the importance of nutrition and healthy eating.
The harvest has been an enormous success. The students have harvested over 100 kilograms of tomatoes, which they have sold to local markets and restaurants. The proceeds from the sale of the tomatoes will be used to support the school farm project and other school activities.
The school farm project is a valuable learning experience for the students. It teaches them about the importance of agriculture and food security, as well as the skills they need to be successful farmers.
The project also provides the students with an opportunity to earn money and support their education.
The success of the Daffiama Tendamba D/A JHS school farm project is a testament to the hard work and dedication of the students and teachers. It is also an example of how education can be used to improve the lives of people in developing countries.
---
Minister of Education Calls for Innovative, Creative, and Critical Thinking in Schools
New Technology: NaCCA Introduces QR Codes on Textbooks to Curb Use of Unapproved Books
USAID/GHANA Launches $14.39 Million Activity to Improve Learning Outcomes in Northern Ghana
---
Empowering Through Education
Education is more than textbooks and classrooms; it's about preparing students for the challenges of the real world.
Daffiama Tendamba D/A JHS understands this concept well, and their Tomato School Farm Project Initiative embodies this philosophy. By integrating farming into the curriculum, students not only gain theoretical knowledge but also practical skills essential for life beyond the classroom.
Positive Impact on the Community
This project isn't just about classroom education; it's also about community engagement. The surplus tomatoes harvested by these diligent students are shared with the local community, fostering a sense of unity and support.
This act of giving back empowers students to become responsible citizens who care for both their education and the well-being of those around them.
Nurturing Tomorrow's Leaders
The Daffiama Tendamba D/A JHS Tomato School Farm Project Initiative exemplifies the power of hands-on learning.
By nurturing these young minds with essential agricultural skills, it creates a brighter future not just for the students themselves, but for the entire community. It instils values of hard work, responsibility, and sustainability in the next generation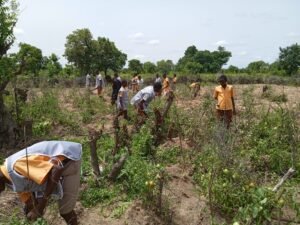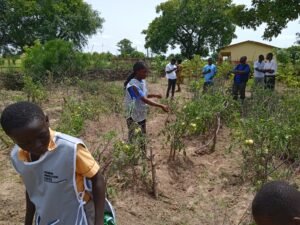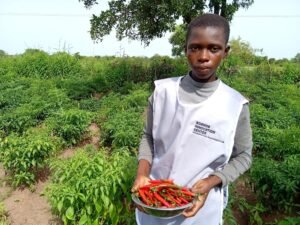 GET THE LATEST UPDATES IN EDUCATION IN GHANA
---
OTHER INSTITUTIONAL RANKINGS YOU SHOULD KNOW
---
OTHER INSTITUTIONAL RANKINGS IN AFRICA FOR YOU
---
UPDATES ON THE TEACHERS' NOTICE BOARD
---
OTHER UNIVERSITY AND COLLEGE ADMISSIONS NEAR YOU
---
APPLY FOR THE LATEST SCHOLARSHIP OPPORTUNITIES NEAR YOU
---
2ND TERM SCHEME OF LEARNING AND LESSON PLAN FOR TEACHERS
---