Ferdinand

| EducationGhana |July 02|NSMQ 2023 Regional Qualifiers: Day 1 List of Qualified Schools from the Greater Accra Region
The regional qualifiers from the Greater Accra Region saw three schools making the list to the National Championship of the 2023 edition of the National Science and Maths Quiz (NSMQ) Competition.
The first day of the Greater Accra Regional Qualifiers took place on June 30, 2023, with the following schools making remarkable progress to the national championship from the Greater Accra Region.
Chemu SHS
St Thomas Aquinas SHS
St John's Grammar SHS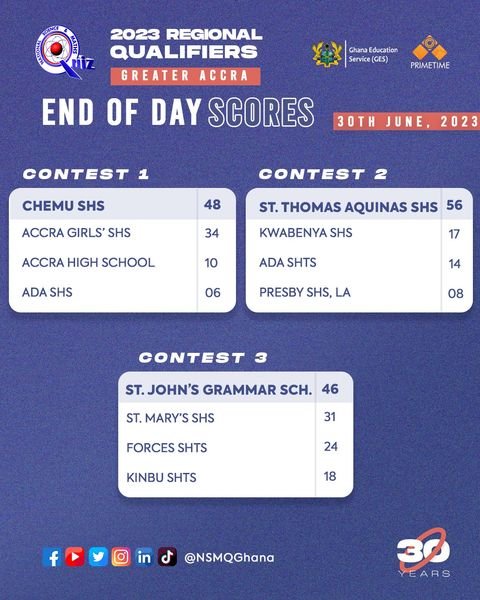 These schools are also qualified to compete in the regional championship to determine who rules the region into the national championship.
GET THE LATEST UPDATES IN EDUCATION IN GHANA
---
OTHER INSTITUTIONAL RANKINGS YOU SHOULD KNOW
---
OTHER INSTITUTIONAL RANKINGS IN AFRICA FOR YOU
---
UPDATES ON THE TEACHERS' NOTICE BOARD
---
OTHER UNIVERSITY AND COLLEGE ADMISSIONS NEAR YOU
---
APPLY FOR THE LATEST SCHOLARSHIP OPPORTUNITIES NEAR YOU
---
2ND TERM SCHEME OF LEARNING AND LESSON PLAN FOR TEACHERS
---