Ferdinand

| EducationGhana |August 17|GES Announces Results of February/March 2023 Promotion Test with 69% Passes
Accra, Ghana – The Ghana Education Service (GES) has officially released the results of the promotion test that was conducted in February  and March, 2023 for various teaching grades within the service.
A total of 80,810 candidates participated in the test, with a significant number achieving success.
In a press statement issued today, August 17, 2023, the GES management informed all teaching staff that the results of the promotion test have been published.
The promotion test, which aimed to elevate teachers to different teaching grades, recorded a commendable success rate of 69%, with 55,917 candidates out of the total number achieving the required threshold for promotion.
The teaching grades involved in the promotion test were Deputy Director, Assistant Director I, Assistant Director II, and Principal Superintendent. The breakdown of the results for each grade is as follows:
Deputy Director Grade: Out of the 8,565 candidates who took the test, 4,655 candidates (54%) successfully passed the exam.
Assistant Director I Grade: A total of 25,556 candidates participated in the test, and an impressive 21,749 candidates (85%) achieved success.
Assistant Director II Grade: Among the 40,020 candidates who sat for the promotion to Assistant Director II grade, 24,581 candidates (61%) successfully passed the test.
Principal Superintendent Grade: The test saw participation from 6,668 candidates for the Principal Superintendent grade, with a significant 4,932 candidates (74%) successfully clearing the examination.

Trending in Ghana:
Promotion Site and SMS Confirmation
In a departure from previous years, the GES management has decided not to provide access to the promotion site this time around.
Instead, candidates will receive text messages (SMS) notifying them of their results, whether successful or unsuccessful. The GES management urges all candidates to be vigilant and prepared for message alerts, ensuring they don't miss the crucial notification.
Candidates who sat for the promotion test are advised to keep an eye on their phones for the impending message, indicating their promotion status. It is emphasized that the promotion site will not be accessible this year, underscoring the importance of staying attentive to the SMS alerts.
The formal promotion letters will be dispatched in due course, providing detailed information about the promotion process, next steps, and necessary instructions for the candidates.
This achievement in the promotion test underscores the dedication and commitment of teachers in the Ghana Education Service, whose expertise plays a pivotal role in shaping the future of the nation's youth.
For further inquiries and information, candidates are directed to contact the Ghana Education Service's official channels.
Read statement below: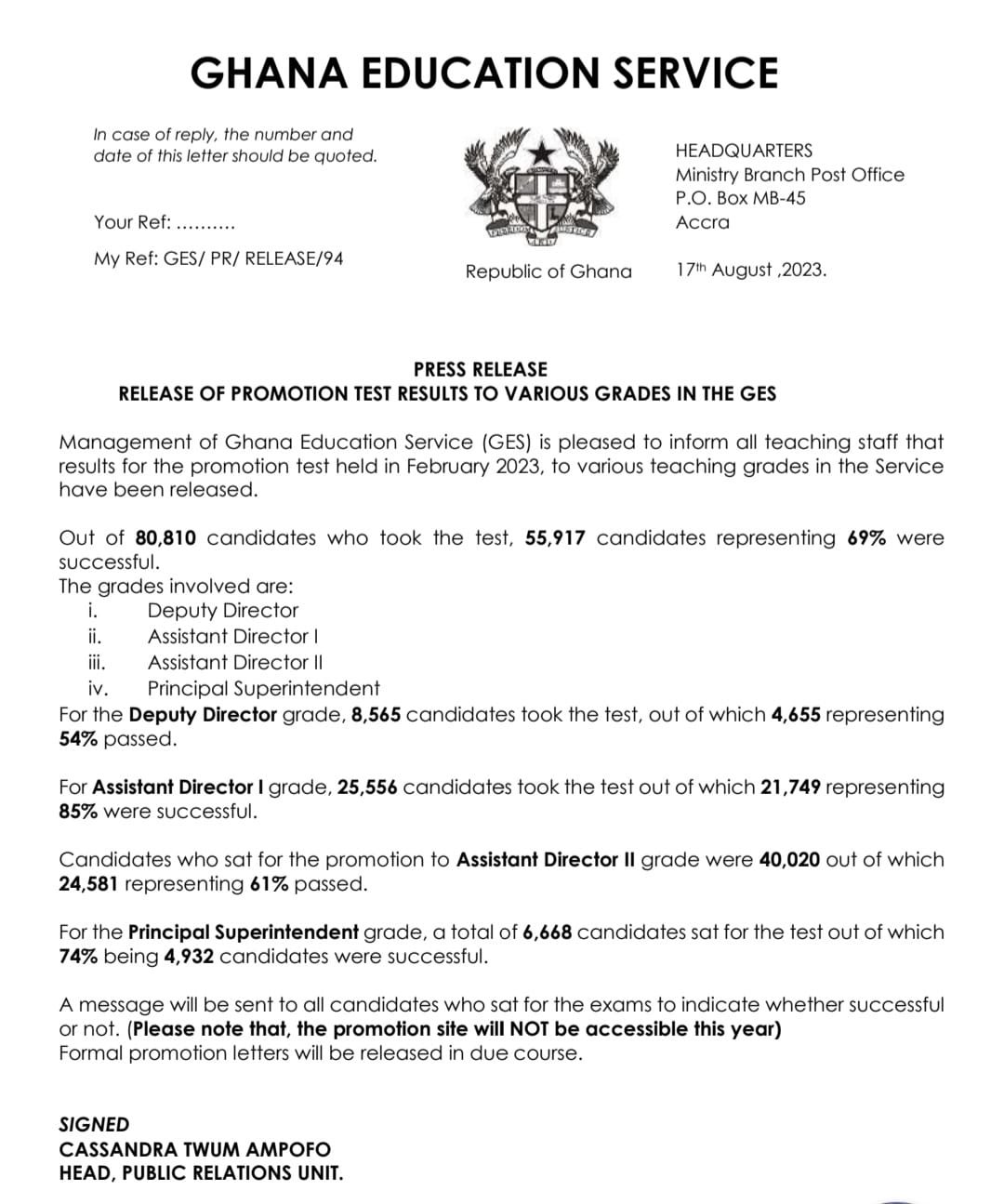 GET THE LATEST UPDATES IN EDUCATION IN GHANA
---
OTHER INSTITUTIONAL RANKINGS YOU SHOULD KNOW
---
OTHER INSTITUTIONAL RANKINGS IN AFRICA FOR YOU
---
UPDATES ON THE TEACHERS' NOTICE BOARD
---
OTHER UNIVERSITY AND COLLEGE ADMISSIONS NEAR YOU
---
APPLY FOR THE LATEST SCHOLARSHIP OPPORTUNITIES NEAR YOU
---
2ND TERM SCHEME OF LEARNING AND LESSON PLAN FOR TEACHERS
---