Ferdinand

| EducationGhana |July 14|Fixtures for the 2023 NSMQ Volta/Oti Zonal Championship
The Volta/Oti Zone shall be represented by 19 senior high schools from the Volta and Oti Regioklsn who were selected after competing in their regional qualifiers as well as some seeded due to their performance during the 2022 edition of the National Science and Maths Quiz Competiton.
St Catherine SHS was added as part of three schools that were recalled for getting beyond 40 points during the regional qualifiers.
The fixtures for the Volta Oti Zonal championship scheduled for today, July 14, 2023, are listed below.
CONTEST 1 
Bishop Herman College
Awudome SHS
St Pauls Seminary SHS
E.P.C Mawuko Girls SHS
CONTEST 2 

Kpando SHS
Hohoe E.P SHS
OLA Girls SHS, Ho
St Catherine SHS

CONTEST 3

Mawuli School
Kadjebi -Asato SHS
Sogakope SHS
Krachi SHS

CONTEST 4

Abor SHS
St Mary's Seminary SHS, Lolobi
Zion College
Adidome SHS

CONTEST 5

Keta SHTS
Anlo SHS
Bueman SHS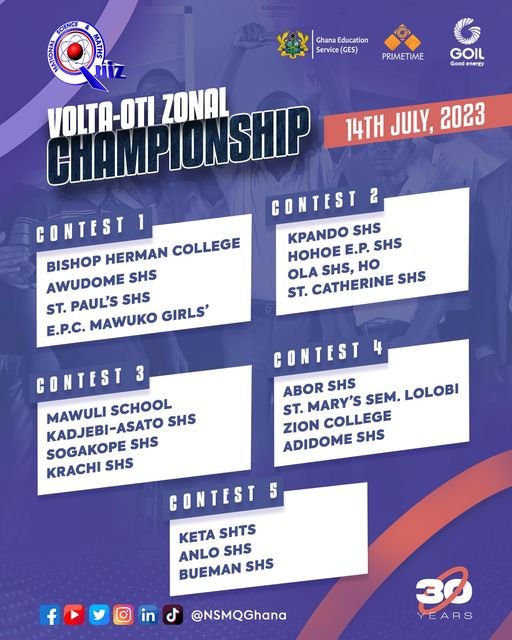 GET THE LATEST UPDATES IN EDUCATION IN GHANA
---
OTHER INSTITUTIONAL RANKINGS YOU SHOULD KNOW
---
OTHER INSTITUTIONAL RANKINGS IN AFRICA FOR YOU
---
UPDATES ON THE TEACHERS' NOTICE BOARD
---
OTHER UNIVERSITY AND COLLEGE ADMISSIONS NEAR YOU
---
APPLY FOR THE LATEST SCHOLARSHIP OPPORTUNITIES NEAR YOU
---
2ND TERM SCHEME OF LEARNING AND LESSON PLAN FOR TEACHERS
---