Ferdinand

| EducationGhana |July 06| List of Top 13 Schools representing the Bono and Ahafo Zone for the 2023 NSMQ
The Bono and Ahafo Zones shall be represented at the 2023 EDITION OF THE  National Science and Maths Quiz (NSMQ) Competition by the following 13 Senior High Schools.
The schools include those that have been seeded from the 2022 edition and those that qualified through the regional qualifiers in 2023.
---
---
The Bono and Ahafo zone is made up of three different regions name;y the Bono Region, Bono East Region and the Ahafo Regions which were all from the old Brong Ahafo Region.
---
4th Consecutive Win: PRESEC, Legon are 2023 NSMQ Greater Accra Regional Champions
---
Only one school has been seeded from the ZONE and this school is ST James Seminary SHS.
Schools representing the Bono and Ahafo Zones for the 2023 NSMQ
Nafana Presby SHS
Methodist SHTS, Berekum
Sunyani SHS
Notre Dame Girls' SHS
Goka SHTS
Atebubu SHS
Kintampo SHS
Akumfi Ameyaw SHTS
Our Lady of Mt. Carmel Girls' SHS
Samuel Otu Presby SHS
OLA Girls' SHS, Kenyasi
Acherensua SHS
St James Seminary SHS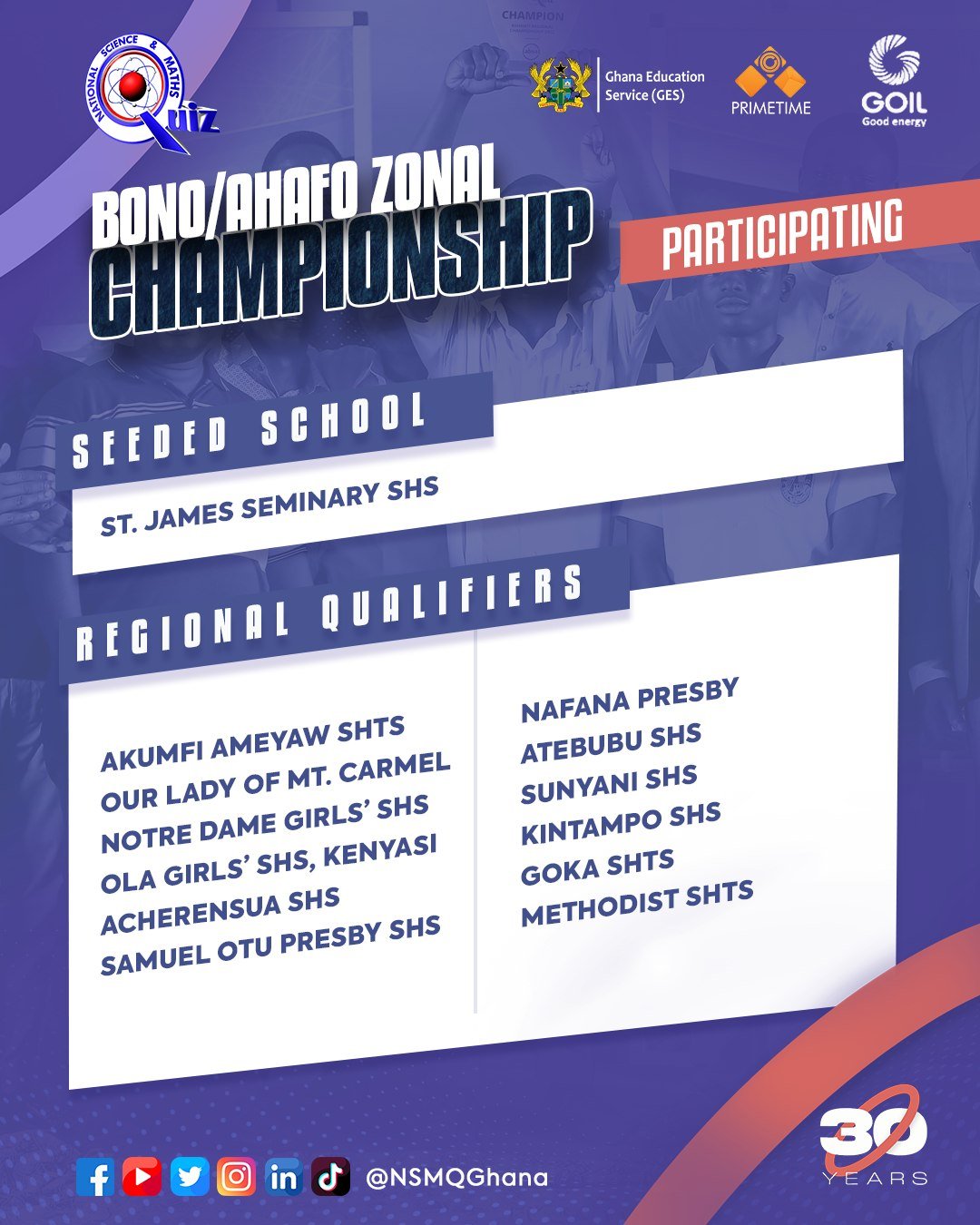 GET THE LATEST UPDATES IN EDUCATION IN GHANA
---
OTHER INSTITUTIONAL RANKINGS YOU SHOULD KNOW
---
OTHER INSTITUTIONAL RANKINGS IN AFRICA FOR YOU
---
UPDATES ON THE TEACHERS' NOTICE BOARD
---
OTHER UNIVERSITY AND COLLEGE ADMISSIONS NEAR YOU
---
APPLY FOR THE LATEST SCHOLARSHIP OPPORTUNITIES NEAR YOU
---
2ND TERM SCHEME OF LEARNING AND LESSON PLAN FOR TEACHERS
---