The organisers of the competition released the Bono/Ahafo Zonal championship of the 2023 National Science and Maths Quiz (NSMQ). THE CONTEST took OFF on July 6, 2023.
Below are the final results and a list of schools that have qualified for the finals.
1. Methodist SHTS
2. Akumfi Ameyaw SHTS
3. Sunyani SHS
4. St. James Seminary SHS
Semi Final Contest results
End of Contest 4
St. James Seminary SHS: 46pts
Nafana Presby SHS: 16pts
Samuel Otu Presby SHS: 14pt
Kintampo SHS: 07pts
End of Contest 3
Methodist SHTS: 14pts*
Notre Dame Girls' SHS: 14pts
Atebubu SHS: 06pts
*Methodist SHTS, Berekum wins the tie-breaker.
End of Contest 2
Akumfi Ameyaw SHTS: 43pts
Acherensua SHS: 24pts
Goka SHTS: 07pts
End of Contest 1
Sunyani SHS: 19pts
Our Lady of Mt. Carmel Girls' SHS: 17pts
OLA Girls' SHS, Kenyasi: 08pts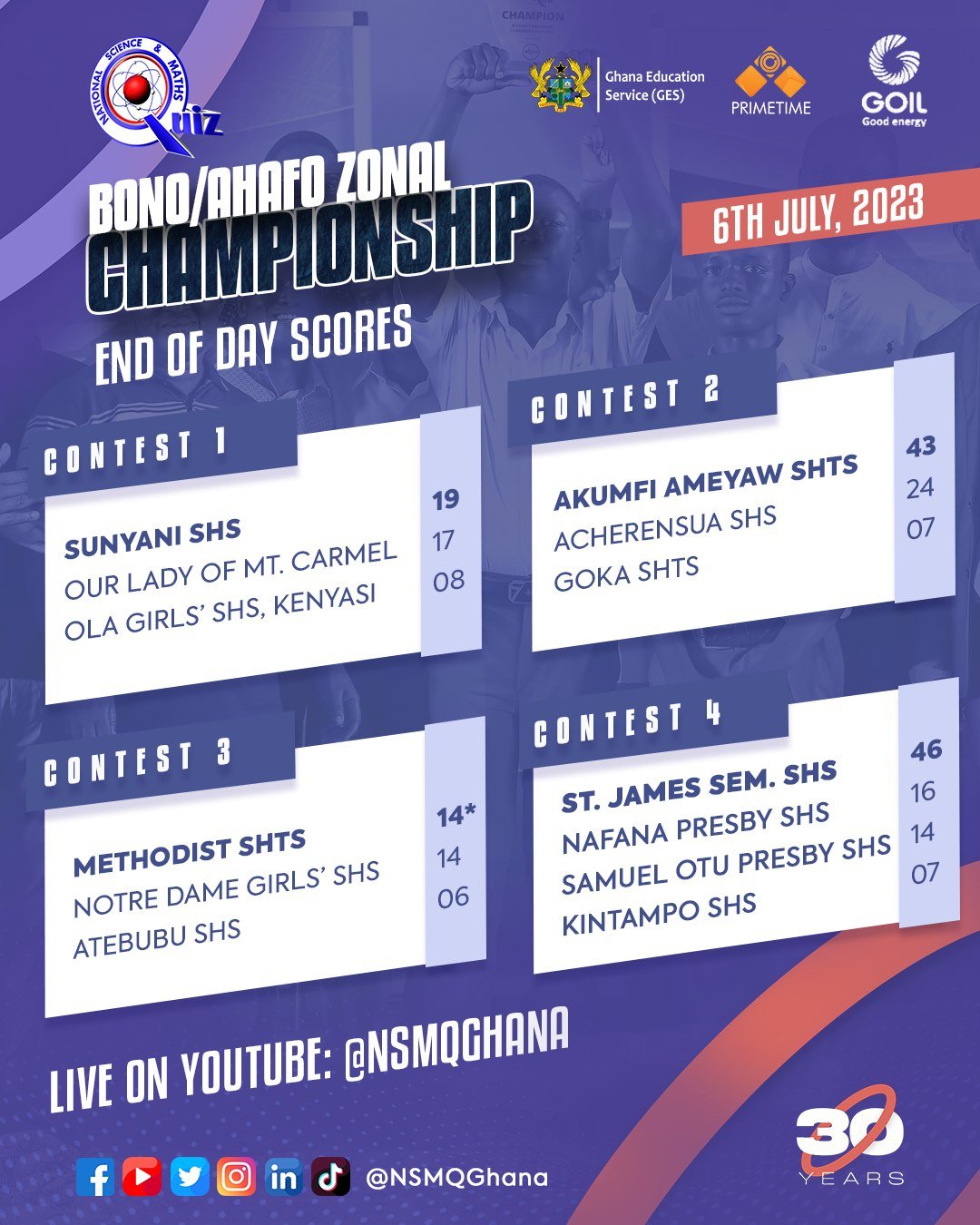 GET THE LATEST UPDATES IN EDUCATION IN GHANA
---
OTHER INSTITUTIONAL RANKINGS YOU SHOULD KNOW
---
OTHER INSTITUTIONAL RANKINGS IN AFRICA FOR YOU
---
UPDATES ON THE TEACHERS' NOTICE BOARD
---
OTHER UNIVERSITY AND COLLEGE ADMISSIONS NEAR YOU
---
APPLY FOR THE LATEST SCHOLARSHIP OPPORTUNITIES NEAR YOU
---
2ND TERM SCHEME OF LEARNING AND LESSON PLAN FOR TEACHERS
---