Ferdinand | EducationGhana |May 24| How to successfully assess your strengths and Weaknesses as a 2023 BECE Candidate
The Basic Education Certificate Examination (BECE) is an important milestone for students in Ghana, as it marks the end of their Junior High School (JHS) education.
The BECE this year shall be written simultaneously by the scHOOL CANDIDATES AAS WELL AS PRIVATE CANDIDATES.
Preparing for the BECE can be a daunting task, but with the right strategies and support, students can become well-prepared for the examination. This guide provides an overview of the steps students should take to get ready for the BECE in 2023.
How to successfully assess your strengths and Weaknesses as a 2023 BECE Candidate
1. Identify your strengths
Take some time to think about the topics you're good at and the ones you find easy to understand.
2. Identify your weaknesses
Make a list of the topics you struggle with and the areas you need to focus on.
3. Ask for feedback
Ask your teachers or peers for feedback on your performance and areas of weakness.
4. Take practice tests
Taking practice tests can help you identify areas of strength and weakness.
5. Ask for help
If you're struggling with a particular subject, don't be afraid to ask for help.
6. Talk to your teachers
Speak to your teachers if you're having difficulty understanding a topic or need extra help.
7. Practice, practice, practice
The more you practice, the better you'll become at a subject.
8. Take breaks
Taking breaks from studying will help you stay focused and motivated.
9. Seek out resources
Look for online resources, books, or videos that can help you understand difficult topics.
10. Use mnemonics
Mnemonics are techniques that can help you remember facts and information.
RECOMMENDED:
RECOMMENDED:
Check Also:
How to write and Address a Letter of Sponsorship as a School in the GES HERE
How to write and address any form of Letter to the Ghana Education Service HERE
How to write and Address an Application for Car Maintenance Allowance as a Teacher HERE
Check the SHS Grading System HERE
Download the 2022 basic and shs Academic Calendar HERE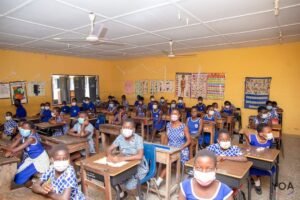 ---
SEND US YOUR STORIES FOR PUBLICATION VIA WHATSAPP NUMBER

0506440219
Get theNaCCA/GES Standard-Based Lesson Plans HERE
---
♥Copyright Notice: Content on This Website is Copyright Protected. No Part of this Content should be Reproduced without the Consent of the Author(s) or Recognition of the source of the Content.© 2020 Ellis Multimedia: EducationGhana.org: All Rights Reserved.♥