The Ghana Education (GES) in a letter to heads of Second Cycle Institutions in the Volta and Oti Regions on July 17, 2020, cautioned them against unilateral decisions to suspend and dismiss Indisciplined Students.
The GES said such decisions cannot be taken without recourse to the Board of Governers and Management of the District and Regional Education Directorates.
The letter further indicated that such decisions were against the Service.
Read the full letter below: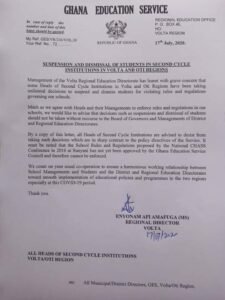 Source: EducationGhana.net
---
SEND US YOUR STORIES FOR PUBLICATION VIA WHATSAPP NUMBER 0506440219
Get the Ghana Education Service New Standard – Based Scheme of Learning (SOL) HERE
Get the Ghana Education Service New Standard – Based Curriculum HERE
Get the  WAEC Marking Schemes HERE
Get the NaCCA/GES Standard -Based Lesson Plans HERE
Get the WAEC BECE, WASSCE, NTC Licensure Exam and Teachers' Promotion Exam Past Questions HERE