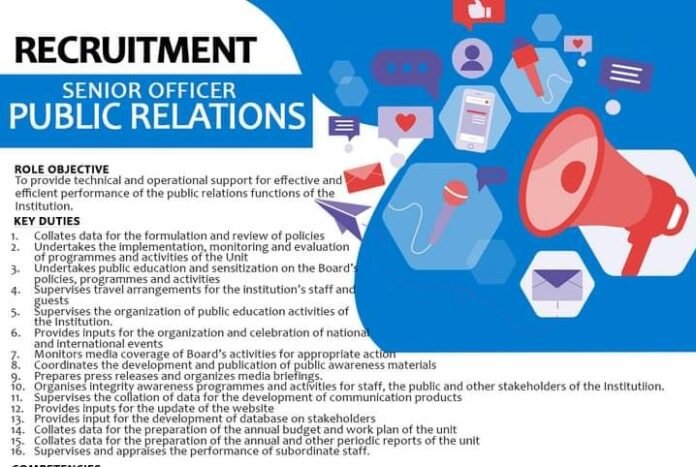 EducationGhana| April 6|NaSIA opens Applications for the Recruitment of Senior Public Relations Officer for 2022
                   SENIOR OFFICER PUBLIC RELATIONS
To provide technical and operational support for the effective and efficient performance of the public relations functions of the institution.
1. Collates data for the formulation and review of policies
2. Undertakes the implementation, monitoring and evaluation of programmes and activities of the Unit
3. Undertakes public education and sensitization on the Board's policies, programmes and activities.
4. Supervises travel arrangements for the institution's staff and guests
5. Supervises the organization of public education activities of the Institution.
6. Provides inputs for the organization and celebration of national and international events
7. Monitors media coverage of Board's activities for appropriate action
8. Coordinates the development and publication of public awareness materials
9. Prepares press releases and organizes media briefings.
10. Organises integrity awareness programmes and activities for staff, the public and other stakeholders of the Institution.
11. Supervises the collation of data for the development of communication products
12. Provides inputs for the update of the website
13. Provides input for the development of a database on stakeholders
14. Collates data for the preparation of the annual budget and work plan of the un
15. Collates data for the preparation of the annual and other periodic reports of the unit
16. Supervises and appraises the performance of subordinate staff.
Good knowledge and understanding of the Public Administration System of Ghana
. Good knowledge of public relations Good leadership, networking and monitoring skills
Good knowledge in media law Strong analytical skills
Good negotiation and advocacy skills Good communication, interpersonal and presentation skills
QUALIFICATION & EXPERIENCE
A minimum of a Master's degree from an accredited tertiary institution in Mass Communication, Communication Studies, International Relations, Social Science or any other related fields
. Membership of a relevant professional body will be an advantage
A minimum of four (4) years post-bachelor Degree relevant work experience in a reputable organisation
Qualified candidates should send their applications, CVs and copies of Certificates to
[email protected]
CLOSING DATE: 1 week from the date of publication.
Check the SHS Grading System HERE
Download the 2022 basic and shs Academic Calendar HERE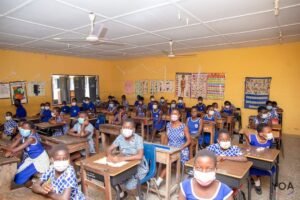 ---
SEND US YOUR STORIES FOR PUBLICATION VIA WHATSAPP NUMBER

0506440219
Get theNaCCA/GES Standard-Based Lesson Plans HERE
---
♥Copyright Notice: Content on This Website is Copyright Protected. No Part of this Content should be Reproduced without the Consent of the Author(s) or Recognition to the source of the Content.© 2020 Ellis Multimedia: EducationGhana.org: All Rights Reserved.♥