The Ghana National Council of Private Schools  (GNACOPS) has said that the Teacher Unions' thoughts on GES's proposal for reopening of Schools was not a 'Popular Decision' and should be disregarded.
The Unions in a press statement issued on Monday, May, 18,2020  criticised the Ghana Education Service (GES) over a letter requesting proposals for reopening of schools in the country.
The Four teacher Unions – GNAT, NAGRAT, TEWU and CCT said the GES letter which suggests that the body has launched a stakeholder consultation to provide President Akufo-Addo with measures to be taken ahead of a possible reopening of all basic and senior high schools is uncalled for.
But the Leadership- of the Council of Private Schools in Ghana, in a Facebook post after the Teacher Unions' Press statement, said the decision was just an expression of their thoughts and not a [popular decision.
"You have just expressed your mere thoughts on school reopening.
But not a popular Decision". They said.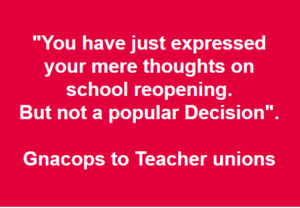 Source: EducationGhana.net
---
SEND US YOUR STORIES FOR PUBLICATION VIA WHATSAPP NUMBER

0506440219
Get the Ghana Education Service New Standard – Based Scheme of Learning (SOL) HERE
National E-Learning guidelines for Pre-Tertiary Institutions Out – CHECK HERE
Get the Ghana Education Service New Standard – Based Curriculum HERE
Get the  WAEC Marking Schemes HERE
Get the NaCCA/GES Standard -Based Lesson Plans HERE
Get the WAEC BECE, WASSCE, NTC Licensure Exam and Teachers' Promotion Exam Past Questions HERE