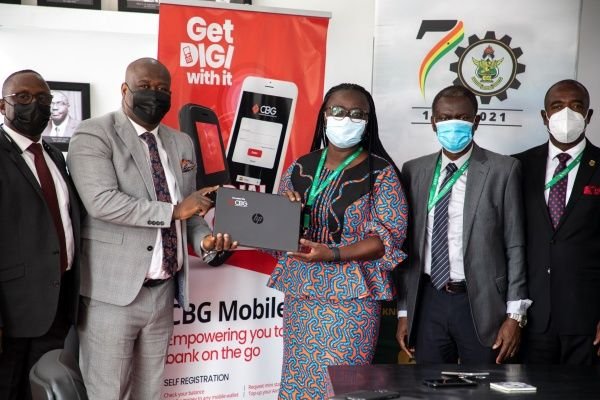 Consolidated Bank Ghana has donated 50 laptops to the Kwame Nkrumah University of Science and Technology (KNUST) in response to the University's request for "Support One Needy Student with One Laptop" (SONSOL) Project introduced recently.
The gesture follows an initial donation of 50 laptops in 2021 to KNUST during which the Bank promised to honour a four-year promise of 50 laptops each year, to make available a total of 200 laptops for the University.
Presenting the new branded CBG laptops on behalf of the bank to the University, Director of Retail and Business Banking at CBG, Emmanuel Nikoi said the bank is dedicated to fulfilling its promise.
"To help needy but brilliant students, we promised 50 laptops every year. Last year we started and this year also, we are here to do the needful. To honor the agreement, we have brought 50, making 100 laptops. We are committed to bring the others, 50 in 2023 and the last 50 in 2024 to bring the total to 200. Also, we are presenting a multi-purpose printer for the school for the seamless printing of ID cards for staff and students".
"The Management of the bank wants to assure you that beyond the laptops, we have also made room for internships and employment opportunities for brilliant students. On behalf of the Managing Director, Daniel Wilson Addo, board and entire executives, we want to thank the University for their warmth and we hope to continue to be in partnership", he added.
The Vice-Chancellor of the KNUST, Professor Rita Akosua Dickson, who received the items on behalf of the school, expressed gratitude to Consolidated Bank for the kind gesture.
"A promise they say is like a debt and having you here to honor your promise is beautiful. You started last year and this year you didn't disappoint. We are very delighted to have you. We believe that the subsequent years we will see you again. We have a noble duty as a university to churn out great leaders and we believe this function of equipping them is very key to the agenda. We see this function as something we cannot do on our own so we believe in partnership to ensure we fulfil this mandate".
"When COVID struck in 2020, we had to adopt the blended form of learning but the issue was the means to get students laptops for the online bit. We shared this initiative with CBG and we are very happy that CBG listened to our plea. It is refreshing that we are not alone in this responsibility.
This encourages us and strengthens us to do more. We are very grateful for these customized CBG laptops. We are also thankful for the multi-purpose printer to help us with printing. This means a great deal to us as a university.
We want to assure you that we do not take this kindness lightly at all. KNUST will remain forever grateful to the Management of CBG. We hope that this will serve as a motivation to other institutions to support this initiative. Thank you for leading the way. We are very grateful".
Other members of the delegation were Edward Antwi General Manager Branches and Digital Channels, Ziblila Atchulo Head E-Banking and Eric Yaw Kwarteng Regional Manager Ashanti South all of CBG. Mr Andrews Kwasi BoatengRegistrar, Mr Yaw Nimo Baffour Finance Officer were also present for the KNUST.
The donation is in aid of the institutionalization of blended teaching and learning methods initiated by the University during the COVID-19 pandemic.
Check the SHS Grading System HERE
Download the 2022 basic and shs Academic Calendar HERE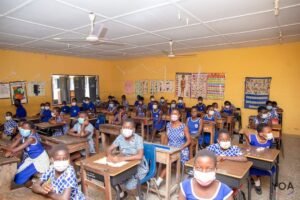 ---
SEND US YOUR STORIES FOR PUBLICATION VIA WHATSAPP NUMBER

0506440219
Get theNaCCA/GES Standard-Based Lesson Plans HERE
---
♥Copyright Notice: Content on This Website is Copyright Protected. No Part of this Content should be Reproduced without the Consent of the Author(s) or Recognition to the source of the Content.© 2020 Ellis Multimedia: EducationGhana.org: All Rights Reserved.♥
Source: Peacefmonline.com/ghana