EducationGhana| March 20| Sue GES over 10% rent for Teachers: The All Teachers Alliance Ghana (ATAG) has dared the Ghana National Association of Ghana (GNAT) to sue the Ghana Education Service (GES) over the 10% rent for teachers living in government bungalows.
ATAG in a statement issued on March 16, 2022, indicated that the decision by bGNAT describing the 10% rent as against the collective agreement was unfortunate.
Read Statement Below:
ALL TEACHERS ALLIANCE GHANA_
_PRESS STATEMENT_
16/03/2022
RE: TEACHERS' 10% BROUHAHA – WE DARE GNAT TO GO TO COURT ON BEHALF OF TEACHERS IF THEY THINK GES HAS BREACHED ANY AGREEMENT
In times like this where economic heat is catching up with the majority of government workers, GES has taken steps to deepen the frustrations of teachers by urging all of them who stay in government bungalows to pay 10% of such rent and with accumulated arrears.
This *cannot be an afterthought but a calculated attempt* to take away the only privileges reserved for headteachers, directors, senior housemasters etc.
Notwithstanding, we found no fault with such directive since it is in line with the August 2020 Collective Agreement. GES according to the August 2020 collective agreement *is not binding to be providing accommodation for staff in secondary schools.
GNAT, NAGRAT and CC-GH have started their mind games trying to pontificate *'we care for teachers'. GNAT is warning GES of *'disrupted industrial peace in the educational front if nothing is done".
This argument came at the backdrop of provisions in the teachers' bargaining agreements both the 2009 and the current 2020 version. GNAT through their General Secretary reminded GES of sections 21 (i) and 19 of the collective agreement in 2009 and 2020 respectively.
We want teachers to dare GNAT and Co to go to court if they think GES has been dishonest with any form of agreement.
The so-called teacher unions are throwing dust into the eyes of their members by trying to show 'concern' that is borne out of necessity but not out of the purpose of getting fairness in the labour front.
A look at the two quotes from Section 21 (i) of 2009 and Section 19 of 2020 agreements shows a clear disparity.
In section 21 (i) of the 2009 agreement, emphasis was laid on 'shall be provided with free residential accommodation, and that where there is no residential accommodation, the service shall be responsible for the rents of the officer (s) concerned".
This is different from Section 19 of the 2020 agreement. In Section 19 of the 2020 agreement, no emphasis was made about the provision of free accommodation and that it was captured in a form of an appeal "MAY BE".
It means GES is *not under any form of obligation to provide free accommodation to teachers again*. For GNAT's own mischieve, let me quote verbatim from their release:
_"Accommodation may be provided (for) the following category of staff: Headmasters, Assistant Headmasters, Senior Housemasters, Housemasters, Principals, Vice Principals, Headteachers, Assistant Headteachers, Frontline Deputy Directors and Guidance and Counselling Officers and Chaplains and Imams in Second Cycle Institutions"._ (Section 19, Collective Agreement, 2020)
We want to remind teachers that GNAT led Teacher Unions *has failed them in the face of what was agreed on in the August 2020 Collective Agreement. GNAT is reminded that the 2009 collective agreement is no more a force and *they cannot rely on it to promulgate unnecessary propaganda.
GNAT is exposed big time in this regard and teachers should not take them seriously again. Once again, we dare GNAT to go to court if they can withstand GES with their so-called "ACCOMMODATION MAY BE PROVIDED FOR" in the August 2020 collective agreement.
GNAT has lost its value and teachers cannot trust them again. We urge teachers to place faith in other unions going forward to beef up the competition.
Unfortunately, GNAT has courted NAGRAT and CCT-GH to visit this unprecedented incompetence collective agreement in 2020 on teachers. We will urge all teachers to get the collective agreement 2020 and read section 19 to see the hypocrisy of their beloved mother, GNAT.
… signed…
Albert Dadson Amoah
General Secretary
0241871847
Check the SHS Grading System HERE
Download the 2022 basic and shs Academic Calendar HERE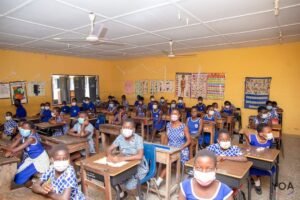 ---
SEND US YOUR STORIES FOR PUBLICATION VIA WHATSAPP NUMBER

0506440219
Get theNaCCA/GES Standard-Based Lesson Plans HERE
---
♥Copyright Notice: Content on This Website is Copyright Protected. No Part of this Content should be Reproduced without the Consent of the Author(s) or Recognition to the source of the Content.© 2020 Ellis Multimedia: EducationGhana.org: All Rights Reserved.♥
Source: EducationGhana.org |