EducationGhana, October 15, IB: The National Schools Inspectorate Authority (NaSIA) wishes to inform the general public that the shortlisted schools are not duly accredited to offer the International Baccalaureate (IB) curricula in Ghana for the 2020/21 Academic year.
The general public should note that schools that are not accredited but claim to offer the IB curricula do not have the accreditation from their respective bodies to do so
and are liable to be sanctioned.
The shortlisted schools accredited to offer the IB curricula are to ensure that they
are duly licensed by NaSIA in accordance with section 98 (2&3) of the Education Regulatory
Bodies Act (ERBA) 2020, (Act 1023) requires all schools in Ghana to be licensed by NaSIA in order to operate.
FOR  the 2020/21 academic year, the following schools were not accredited to offer the International Baccalaureate curricula in Ghana.
Learning Skills International School
(Adjiriganor Campus) in the Greater Accra Region
They have a long tradition of academic excellence, care and nurture of children. The school was established in September 1986 in Osu, a suburb of Accra, Ghana and expanded to Adjiringanor in 2009.
From its humble beginnings of just over 10 students, LSIS has grown steadily over the past three decades to become the preeminent early childhood development centre in Accra on both campuses
Association International School Greater Accra
Located in the heart of the Airport Residential Area, Association International School is a Pre-Kindergarten through 12th Grade IB World School that prepares students to be confident leaders and global citizens with a sense of purpose.
Together we learn, we succeed! The value of an AIS education is powerful because our students develop within a community of peers, sharing aspirations and developing skills and experiences that translate into successful futures. The result is an extraordinary journey with endless destinations.
3.  Morgan International School (Gomoa Campus) Central 
Morgan International Community School is a co-educational secondary boarding school that opened its doors in August 2013 to students from all corners of the globe. MICS aspires to be a globally renowned centre for innovative international education. To achieve this, the school assures a welcoming, supportive and safe environment, the school fosters love for excellent learning that encourages the development of skills, knowledge, creativity, international-mindedness and multiculturalism.
The school is located in Gomoa Manso which is the central region of Ghana. MICS offers the International Baccalaureate Diploma Program for students between the ages of 16-19 years; the Cambridge Upper Secondary (IGCSE), Lower Secondary and Primary Programmes for students within the age bracket of 4-14 years.
The school was founded by Rev. Obed Danquah, who is a well-renowned entrepreneur in Ghana. MICS, currently boast over 40 classrooms, 194 rooms for accommodation and eco-friendly spaces for studying, leisure, worship, dining and extracurricular activities.
The school has a total of Ninety-Five students from different nationalities, with 30% of our students being Ghanaian nationals and the other 70% are foreign nationals typically from the USA, UK, Germany, Italy, Sierra Leone, Nigeria and others.
MICS opened a new branch in the year 2016 in East-Legon, Accra to provide a day school to students of ages 4 to 9 years and offers the Cambridge Primary Curriculum. It is anticipated that the primary school will feed the main school particularly for parents who desire their children to have a boarding lifestyle.
Phyllis Hildebrant is the founding Head of School who started the administrative aspect of running the school from May 2012 to May 2016, she was the one who governed and managed the affairs of the school until she successfully completed her contract and handed over her position to Mrs Felicia Sackey who became the second Head of School. Mr Opoku BoakyeYiadom who has over 30 years experience in education in general, out of which 17 years in international education is now the current Head of School.
Tema International School Greater Accra
Tema International School was established in 2003 with a vision to be an international school of choice that produces world-class citizens. As a private coeducational P-12 school and IB World School authorised to offer the Middle Years Programme (MYP) and the Diploma Programme (DP), TIS ensures that our Grade 12 students exit with a rigorous and internationally acclaimed IB Diploma, based on a philosophy of responsibility, performance and service. As a school, we are extremely proud of our students' outstanding achievements across all areas.
TIS students are very focused on successful academic results so that they can gain admission to their college or university of choice. Our facilities cater for our scientists, musicians, artists, sports stars, computer scientists and academics. Our school-wide wifi network enables our students to access online resources, digital textbooks and learning management systems within our IT labs or by using their own devices. The learning program and environment promote our students to become active learners and critical thinkers within a balanced program. The TIS DP graduate is an articulate leader who is intelligent, balanced, independent and committed to service and lifelong learning.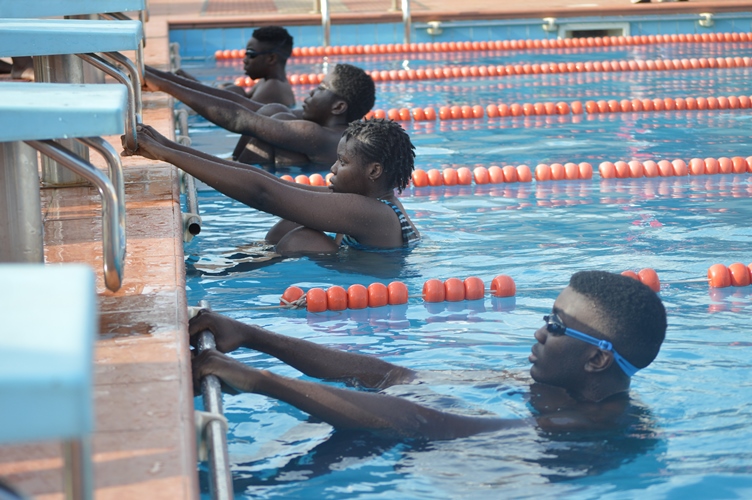 TIS is the founding member of the Tema International School Sports Association (TISSA) which offers the following interschool competitions: athletics; swimming; volleyball; tennis; table tennis; soccer; handball; and basketball. Students have the opportunity to represent their house colour in the following competitions: handball; swimming; badminton; tennis; soccer; volleyball; basketball and athletics.
A multitude of clubs and activities are conducted after school and during weekends during each semester. Clubs and activities include art and craft; bead making; badminton; basketball; chess club; cooking; cosmetology; garden club; handball; information attaché; keep fit club; MUN Club; needlework; pop band; readers' and writers' club; regimental band; robotics; school choir; science fair club; soccer; strings; swimming; swimming club; table tennis club; taekwondo; tennis; yoga and Zumba.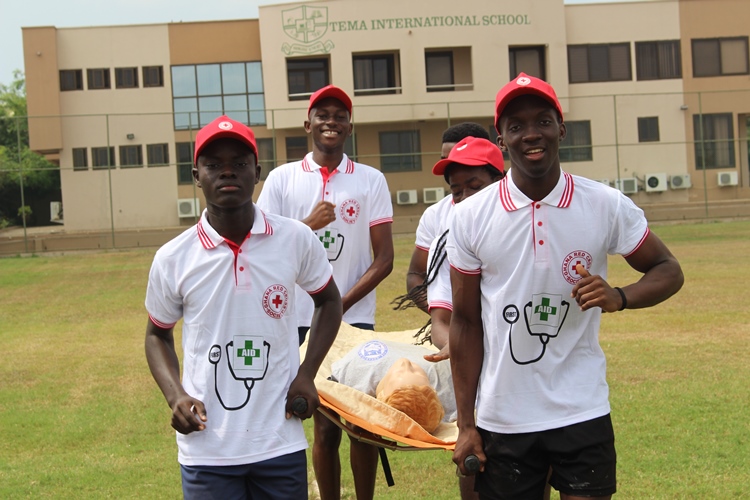 Service-learning actively involves students in a wide range of experiences, which often benefit others and the community, while also advancing the goals of a given curriculum. Common goals achieved by service-learning include: gaining a deeper understanding of the course/curricular content, a broader appreciation of the discipline and an enhanced sense of civic responsibility.
What does service-learning look like at TIS? Students are actively involved in the following service-learning programs. • Kofi and Ama Foundation annual partnership
• Akorlikope TIS adopted community service learning trips • Educom program • Bole Whole for Rural Areas – Water for Life • Liter of Light Ghana • TIS Red Cross Society • Art Therapy • Literacy Project • Outreaches • Hospital outreaches – I am Smile (I am someone making illness less evident) • Awareness • Recycling • GardenHolics – making compost on campus • CureAid • Junior Community Service • Debating Society • Soccer Outreach • Photography Club • Feeding Program  • Kitchen Soup • Annual School Play • School Magazine Club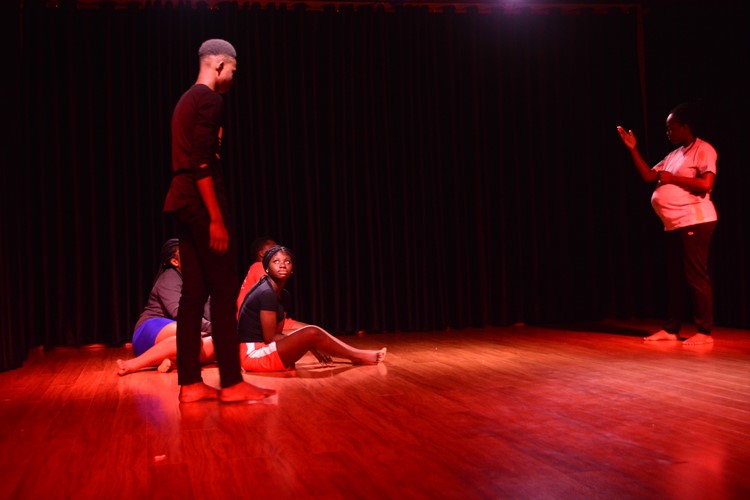 The students' natural talents in music, drama, singing and dance are enhanced and displayed each year through various opportunities and events. The TIS Annual Play has established an enviable reputation within the local and wider communities. 'The Lion King' is still being spoken about in Accra, five years after the event. The 2015 performance, Sarafina, was described by the TIS Board Chairman, "as good as any play I have seen on Broadway." Of course, those who witnessed the incredible 2019 adaptation of The Beauty and the Beast thought they were sitting in a Broadway theatre. It sent a benchmark for others to try and match.
Students have the opportunity to develop and demonstrate their leadership skills through a range of opportunities from Grade 3 to 12. These opportunities include the Prefect system (Grade 11/12), SRC (3-6 and 7-12), class leaders and representatives (7-12), Inter-Colour leaders, Model United Nations, service learning, CAS, Club Executives, as well leadership in sporting and cultural activities.
A successful school reflects a strong school community. Although TIS main campus is a residential school, the school ensures regular communication through weekly bulletins, frequent events to which parents are invited, online reporting and an open-door policy with the Principal.
Our Alumni, successful past students who have pursued/completed undergraduate studies in colleges and universities around the world, are a special part of TIS. Most Alumni members frequently visit the school to meet their former teachers and staff, talk to students about their experiences, as well as participating in different school events. One member is featured weekly in our bulletins and newsletters. Not only were our Alumni champions at TIS, but they are also stars in their chosen studies and careers.
SEND US YOUR STORIES FOR PUBLICATION VIA WHATSAPP NUMBER

0506440219
Get the  WAEC Marking Schemes HERE
Get theNaCCA/GES Standard-Based Lesson Plans HERE
---
♥Copyright Notice: Content on This Website is Copyright Protected. No Part of this Content should be Reproduced without the Consent of the Author(s) or Recognition to the source of the Content.© 2020 Ellis Multimedia: EducationGhana.org: All Rights Reserved.♥