EducationGhana| May 08| Shama SHS wins 2022 NSMQ Western Zonal Championship:
The Shama Senior High School has been declared as the ICONIC for Western Zonal Championship contests after defeating Archbishop Porter Girls' SHS and St. John's School in keen competition.
They won the Western Zonal Championship with a total of 35 points in the just-ended Regional National Science & Maths Quiz competition.
The championship was contested among eleven (11) schools in the Western Regional zone.
Below are the eleven (11) schools that sat for the Western Zonal Championship with their corresponding points:
ZONAL CHAMPIONSHIP – END OF CONTEST 1
Shama SHS: 42
Sekondi College: 21
Akontombra SHS: 09
St. Joseph's SHS: 03
WESTERN ZONAL CHAMPIONSHIP – END OF CONTEST 2
St. John's School: 31
Fijai SHS: 29
Adiembra SHS: 20
WESTERN ZONAL CHAMPIONSHIP – END OF CONTEST 3
Archbishop Porter Girls' SHS: 32
Fiaseman SHS: 31
Sefwi Wiawso SHS: 19
Tarkwa SHS: 09
FINALISTS FOR WESTERN ZONAL CHAMPIONSHIP
END OF CONTEST
Shama SHS: 35
Archbishop Porter Girls' SHS: 32
St. John's School: 28
Check The SHS Grading System HERE
Download the 2022 basic and shs Academic Calendar HERE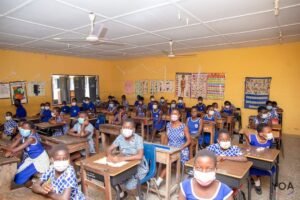 ---
SEND US YOUR STORIES FOR PUBLICATION VIA WHATSAPP NUMBER

0506440219
Get theNaCCA/GES Standard-Based Lesson Plans HERE
---
♥Copyright Notice: Content on This Website is Copyright Protected. No Part of this Content should be Reproduced without the Consent of the Author(s) or Recognition to the source of the Content.© 2020 Ellis Multimedia: EducationGhana.org: All Rights Reserved.♥
Source: Coverghana.com.gh