EducationGhana| December 22| TTAG: The Leadership of the Teacher Trainees Association of Ghana (TTAG) has petitioned the Ghana Tertiary Education Commission (GTEC) over the increment of the Examination Fees of Teacher Trainees for the 2021/22 Academic Year.
TTAG in a statement issued on December 21, 2021, said they have petitioned the Director-General of GTEC, Prof. Salifu Mohammed to engage the necessary stakeholders involved to reconsider their decision on the increment of the examination fees.
Follow-Ups
The leadership has assumed it, members of continuous follow-ups to be made without hesitation to update students of any changes as and when they occur.
Payment of Allowance Arrears
The leadership of TTAG added that the Director in charge of allowance at GTEC indicated that their outfit shall fast track their processes to make payments before Colleges resume and if possible before the end of December 2021.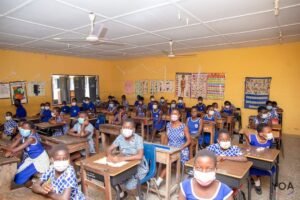 ---
SEND US YOUR STORIES FOR PUBLICATION VIA WHATSAPP NUMBER

0506440219
Get theNaCCA/GES Standard-Based Lesson Plans HERE
---
♥Copyright Notice: Content on This Website is Copyright Protected. No Part of this Content should be Reproduced without the Consent of the Author(s) or Recognition to the source of the Content.© 2020 Ellis Multimedia: EducationGhana.org: All Rights Reserved.♥