EduicationGhana| June 19| UNICEF Education 2021: Ghana spends more on the rich than the poor:
Ghana has spent more of its resources on the rich in society than the poor who really needed it.
This was according to the 2021 report of the United Nations International Children's Emergency Fund, now officially United Nations Children's Fund, (UNICEF) 2021 Policy Brief from 14 countries in West and Central Africa.
The policy brief which was released in October 2021 indicated that there was an inequality in the allocation of education budgets across Africa.
"A child from the 20 per cent wealthiest households can benefit as much as 12 times more government resources than a child from the 20 poorest households, and the former is most likely to complete higher levels of education where unit costs are greater" The report indicated.
In the case of Ghana, the Percentage of public education resources going to children from the poorest households and richest households indicated that out of 20% of poorest households in Gnana, only 11% could access quality education.
The report further indicated that out of a corresponding 20% of the richest homes in Ghana, 33% of such homes were benefiting from the scarce resources being distributed by the Government.
Africa in Perspective
The inefficient use of education resources drives poor education performance. Africa remains the world's least efficient region in the use of education funding.
African countries could improve their primary education completion rate by 42 per cent and secondary education completion rate by 41 per cent with their current levels of spending, just by improving the efficiency of education financing.
The causes of this lack of efficiency are mainly high repetition rates (10 per cent in primary and 13 per cent in lower secondary, compared to 2 and 3 per cent, respectively, for the
rest of the world) and high dropout rates.
If efficiency levels in Africa met those in Asia or Latin America, the completion rate for primary education could rise 98 per cent, suggesting that many African countries could
achieve universal primary enrolment by improving the efficiency of their education spending.
Unfortunately, the limited resources available are not being spent in the most effective way possible due to high repetition and drop-out rates.
Download UNICEF Report HERE
Check the SHS Grading System HERE
Download the 2022 basic and shs Academic Calendar HERE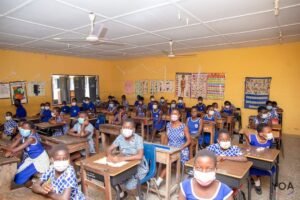 ---
SEND US YOUR STORIES FOR PUBLICATION VIA WHATSAPP NUMBER

0506440219
Get theNaCCA/GES Standard-Based Lesson Plans HERE
---
♥Copyright Notice: Content on This Website is Copyright Protected. No Part of this Content should be Reproduced without the Consent of the Author(s) or Recognition to the source of the Content.© 2020 Ellis Multimedia: EducationGhana.org: All Rights Reserved.♥