EducationGhanja| February 22|Top 50 reasons for Constant Reading of Books:  Reading is one of the skills expected by every student to acquire whilst in school. It is one key skill that makes people very impactful in society.
With reading,  people are able to gain knowledge in diverse areas of life.
Below is a list of some top 50 reasons why it is very necessary to read books constantly.
1. Books help you to feel more confident.
2. Books help you to travel around the world in the cheapest way.
3. Books develop your personality.
4. Books provide food for thought.
5. Books make you laugh and think.
6. Books draw you towards perfection.
7. Books stimulate creativity.
8. Books bring out writing talent.
9. Books help you in communicating.
10. Books clear your vision.
11. Books satisfy your curiosity.
12. Books help you make better choices.
13. Books help you build literary talent.
14. Books do not require any special device to teach.
15. Books increase your attention span.
16. Books are fruitful pastimes.
17. Books can be used anytime, anywhere.
18. Books provide entertainment when others fail.
19. Books make you powerful.
20. Books help you know the 'Whys' and 'Hows' of everything.
21. Books help you to create and spread the fun.
22. Books help you travel across time intelligently.
23. Books keep you updated with facts and figures.
24. Books spread love, affection and knowledge.
25. Books make the best of friends.
26. Books take you to intellectual environment.
27. Books help you feel the world around you.
28. Books entertain your mind.
29. Books broaden your horizon.
30. Books bring Nature to your doorstep.
31. Books bring about a 'personality change'.
32. Books increase comprehension.
33. Books do not require company.
34. Books are stress-busters.
35. Books develop a sense of belonging to people around you.
36. Books provide mental and physical relaxation.
37. Books act as a communication tool.
38. Books are intellectually satisfying activity.
39. Books provide spiritual experience.
40. Books provide emotional strength.
41. Books build your self-esteem.
42. Books help and encourage your imagination to soar.
43. Books make you smarter and wiser.
44. Books help you grow.
45. Books take you to a 'world of dreams.
46. Books can change your life and vision.
47. Books help you in achieving 'life goals.
48. Books develop wonderful experiences.
49. Books transform lives.
50. Books inspire, books motivate, books build Nations.
Download the September 2010 SHS Kasem Syllabus

HERE
Download the September 2010 SHS Fante Syllabus

HERE
Check the SHS Grading System HERE
Download the 2022 basic and shs Academic Calendar HERE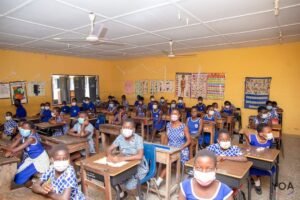 ---
SEND US YOUR STORIES FOR PUBLICATION VIA WHATSAPP NUMBER

0506440219
Get theNaCCA/GES Standard-Based Lesson Plans HERE
---
♥Copyright Notice: Content on This Website is Copyright Protected. No Part of this Content should be Reproduced without the Consent of the Author(s) or Recognition to the source of the Content.© 2020 Ellis Multimedia: EducationGhana.org: All Rights Reserved.♥