Ferdinand

|

EducationGhana

| February 25 | Top 10 Simple Steps to link Ghana Card to GCB Bank Account
In the wake of long queues at the Banking Hall, the Management of the Ghana Commercial Bank has created an online portal where cherished customers can link their Ghana Card Number to their Bank Account.
Customers of one of the most patronized Banks in Ghana will not have to be physically present at the premise of any branch of the Bank to have their Ghana Card number linked to their Bank Account(s).
The Bank of Ghana has directed the various Banks to accept only the Ghana Card as the only recognized ID for all Bank transactions.
Follow these easy and simple steps outlined below to link your Ghana Card Number to your GCB Bank account online at the comfort of your home.
Simple steps to link Ghana Card to GCB account
Visit the official GCB Bank Ghana Card linkage portal at epay.gcbltd.com
Click on 'Link My Card'
Enter your GCB account number
Click 'Continue'
Select the applicable account details
Choose either email or phone number for a One-Time Password (OTP) to be sent to you
Enter the OTP to be verified as the account owner and click 'continue'
Enter the Personal ID Number on your Ghana Card
Click on 'Start Camera' to begin photo verification
Using your front camera, take a passport photo and upload
Provide the last two (2) amounts transacted (Tnx) on the account
Proceed to complete the verification process.
For your verification to be successful, there are some recommended guidelines on the format of the image (passport photo) to be taken in Step 10 should be.
Recommended passport photo format
The image should be a passport-sized photo, not a full picture
It should be taken off a plain white or of white background
It should be taken in full-face view, directly facing the front camera
You should take the passport photo with a neutral facial expression, with both eyes opened
Do not wear glasses when taking the photo
Do not wear a hat or head covering that will obscure your hair or hairline. This is because for a successful verification, your full face must be visible, and the head covering must not cast shadows on your face.
Headphones, wireless hands-free devices, or similar items are not acceptable in your passport-sized photo.
Lastly, the image should be of good quality.
Once you have fulfilled these demands, your Ghana Card Number will be linked to your Ghana Commercial Bank account number without you joining a queue at the banking hall for it to be done.
Check Also:
How to write and Address a Letter of Sponsorship as a School in the GES HERE
How to write and address any form of Letter to the Ghana Education Service HERE
How to write and Address an Application for Car Maintenance Allowance as a Teacher HERE
Check the SHS Grading System HERE
Download the 2022 basic and shs Academic Calendar HERE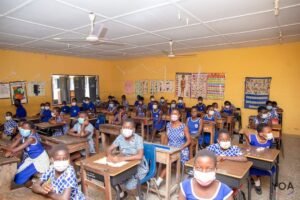 ---
SEND US YOUR STORIES FOR PUBLICATION VIA WHATSAPP NUMBER

0506440219
Get theNaCCA/GES Standard-Based Lesson Plans HERE
---
♥Copyright Notice: Content on This Website is Copyright Protected. No Part of this Content should be Reproduced without the Consent of the Author(s) or Recognition of the source of the Content.© 2020 Ellis Multimedia: EducationGhana.org: All Rights Reserved.♥