EducationGhana| February 18| Rank-Based Training Topics for In-Service Teachers:
Teachers should however note that for a particular rank, all topics must be completed in a CPD cycle of 3years.
RANK 1 _ SUPERINTENDENT II
i. Use of reflective logs in teaching
ii. Motivation for self-directed study and
needs
iii. Assessment for professional planning and growth
iv. Teaching and learning strategies- creative approaches, group work, questioning, talk for
learning.
v. ICT integration in teaching and learning.
Download the 2022 basic and shs Academic Calendar HERE
RANK 2_ SUPERINTENDENT I
i. Mentoring and Coaching skills
ii. Leadership for Learning skills
iii. Demonstrating understanding of school improvement plans and budgeting.
iv. Guidance and Counselling skills for supporting students
v. Report writing
RANK 3_ SENIOR SUPERINTENDENT II
i. Examination item writing and management
ii. School curriculum policy development and reviews
iii. Building partnership in community learning
iv. Supporting the use of learning resources including emerging technologies
v. Supporting and engaging in collaborative learning for professional development
vi. Team building for school improvement
vii. School leadership qualities and skills
RANK 4 _ SENIOR SUPERINTENDENT I
i. Integrating ICT and other technologies in school administration and governance
ii. Leadership for learning
iii. Conflict resolution at school and district levels
iv. Proposal writing for school support
v. Clinical supervision in schools
vi. Promoting teacher motivation for improved quality education
vii. Basic principles in the planning, data collection and management
viii. Demonstrating understanding of roles of local government policies in education
RANK 5 _ PRINCIPAL SUPERINTENDENT
i. Knowledge of procurement laws
ii. Knowledge of GES and MOE
organograms and working principles
iii. EMIS data interpretation and knowledge of its implications for school improvement
iv. Policy development and reviews at school, district, regional and national levels
v. Change management skills (Leadership for Change)
vi. Team building for wider organizational development
Check the SHS Grading System HERE
RANK 6 _ ASSISTANT DIRECTOR II
i. Strategic planning and management in education
ii. Communication skills (oral and written) for dealing with policymakers and writing policy
documents and memoranda
iii. Time management skills
iv. Principles and practice of stakeholder partnership relationships
v. Demonstrating understanding of labour laws and working with trade unions
vi. Knowledge of financial regulations
vii. Public policy formulation
and promoting social accountability in the education sector
viii. Principles of dialogue and negotiation ix. Educational projects and programmes management
Check Business Courses being offered at the SHS in Ghana HERE
x. Time and stress management (balancing work and pleasure)
xi. Planning, monitoring and evaluation in sustainable development in education
xii. Stakeholder analyses and roles development
xiii. Implementing Quality Assurance and Accreditation systems in education
Check the SHS Grading System HERE
Check Business Courses being offered at the SHS in Ghana HERE
Download the 2022 basic and shs Academic Calendar HERE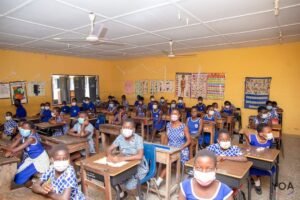 ---
SEND US YOUR STORIES FOR PUBLICATION VIA WHATSAPP NUMBER

0506440219
Get theNaCCA/GES Standard-Based Lesson Plans HERE
---
♥Copyright Notice: Content on This Website is Copyright Protected. No Part of this Content should be Reproduced without the Consent of the Author(s) or Recognition to the source of the Content.© 2020 Ellis Multimedia: EducationGhana.org: All Rights Reserved.♥