EducationGhana| July 24| Partner TTAG, Colleges to offer Scholarships, Provide Hostel Facilities for Colleges – TTAG to Teacher Unions
The president of the Teacher Trainees Association of Ghana (TTAG) Jonathan Dzunu has called on the pretertiary teacher unions and other Non-Governmental Organisations to partner with the Association to offer support schemes for patients.
The president made this revelation in a speech delivered at the 26th General Assembly of the Association held at the St Francis College of Education on July 22, 2022.
"On behalf of teacher trainees across the forty-six (46) colleges of education, I wish to appeal to Teacher Unions to partner with TTAG and college managements to put mechanisms in place to identify brilliant needy students and sponsor their education." He said.
"We also call on Teacher Unions to partner with college management to establish hostel facilities in colleges of education at a subsidized cost for use by students to augment the existing facilities." He said.
"We believe that there is a need for Teacher Unions to extend short and long-term support to teacher trainees and further strengthen the relationship between trainees and the Unions since the employment processes of a teacher is incomplete without joining a Teacher Union."
Resolutions
"Madam Chairperson, it is very important to notify us all that, the 26th General Assembly seeks to discuss topical issues that are of interest to teacher trainees and the nation at large."
"We shall not hesitate to make our resolutions known in issuing communique to all key stakeholders in teacher education for onwards action and implementation of same since our decision making does not end without involving policymakers in the education fraternity among others." He said
Also Important:
Term 2: Nursery, KG to Basic 6 Weekly Scheme of Learning          Download 
Term 2 JHS 1 TO 3 Sample Weekly  Scheme of Learning >>>>           Download
Term 2 Week 1: Basic 7 (JHS 1) Sample Lesson Plans >>>>>            Download
CCP Curriculum Training Manual for Basic 7 to 9 Teachers >>>            Download
Check the SHS Grading System HERE
Download the 2022 basic and shs Academic Calendar HERE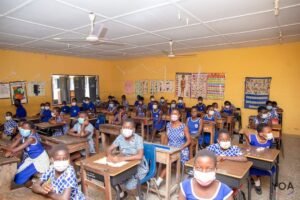 ---
SEND US YOUR STORIES FOR PUBLICATION VIA WHATSAPP NUMBER

0506440219
Get theNaCCA/GES Standard-Based Lesson Plans HERE
---
♥Copyright Notice: Content on This Website is Copyright Protected. No Part of this Content should be Reproduced without the Consent of the Author(s) or Recognition to the source of the Content.© 2020 Ellis Multimedia: EducationGhana.org: All Rights Reserved.♥