EducationGhana| May 11| Official date for the Sale of 2022 Nursing and Midwifery Admission Forms Out:
The Ministry of Health (MoH) opens the Nursing Training Forms Admission online portal for admission into the 2021/2022 academic year.
According to the Ministry of Health (MoH), the online admission portal for the 2021/2022 academic year will officially open from Monday, May 16, 2022, to Friday, July 29, 2022.
Applications are invited from qualified candidates for entry into any of the Public Health Training Institutions in Ghana.
OPENING OF ADMISSION PORTAL
The online admission portal will be opened on May 16, 2022.
ADMISSION DEADLINE
Deadline for the online admission is Friday, July 29, 2022
ONLINE ADMISSION PROCESS
1. Purchase application codes from any Agricultural Development Bank (ADB) or GCB Bank PLC branch at the cost of GH¢ 200.00
NOTE
i. All purchased vouchers are valid up to August 5, 2022, if not used.
ii. No postage envelopes are required as all correspondence will be via SMS /or E-mail.
2. Upon voucher payment, the applicant will receive a unique PIN and Serial number.
3. Applicants should use an active phone number and a personal valid e-mail for all correspondence. (Don't use the e-mail addresses of relatives).
4. Make your residential and Ghana Post Digital Address available for a successful process.
5. Online portal https://healthtraining.gov.gh
Visit the online portal and input your Pin and Serial number and in the fields provided and submitted.
6. Note that the online registration form is accessible only by the PIN and self-created password.
7. Use your PIN and Serial number to track the status of the admission process.
8. All applicants who meet admission requirements will be invited to attend a competitive interview at the school of choice.
Check More Information below
You can also check:
Check The SHS Grading System HERE
Download the 2022 basic and shs Academic Calendar HERE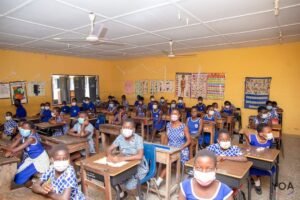 ---
SEND US YOUR STORIES FOR PUBLICATION VIA WHATSAPP NUMBER

0506440219
Get theNaCCA/GES Standard-Based Lesson Plans HERE
---
♥Copyright Notice: Content on This Website is Copyright Protected. No Part of this Content should be Reproduced without the Consent of the Author(s) or Recognition to the source of the Content.© 2020 Ellis Multimedia: EducationGhana.org: All Rights Reserved.♥