The Colleges of Education Non-Teaching Staff Association of Ghana (CENTSAG), has announced its intention to embark on strike action in all forty-six institutions beginning April 11, 2022.
The Association said the strike action has become necessary since their employers and the Fair Wages and Salaries Commission (FWSC) have continuously disregarded their calls for an improvement in their conditions of service and to pay some allowances owed them despite several engagements.
The National Secretary of CENTSAG, Samuel Opoku, in an interview said only security personnel would be allowed to take their post from Monday.
"We are embarking on an indefinite strike effective Monday, April 11, 2022. Our members comprising administrative staff, kitchen staff, and estate staff will all be on strike. We do a lot in support of the teaching service. At the moment, it is only the security that will be exempted from the strike because we have to protect lives and property even while we are on strike," he told Accra-based Citi news.
According to the Association, there are issues about non-teaching staff in colleges of education including wrong placement of first degree holders, non-payment of migration arrears, exclusion of payment of generic allowances, partial payment of Office Holding Allowances, and non-payment of Interim Market Premium arrears.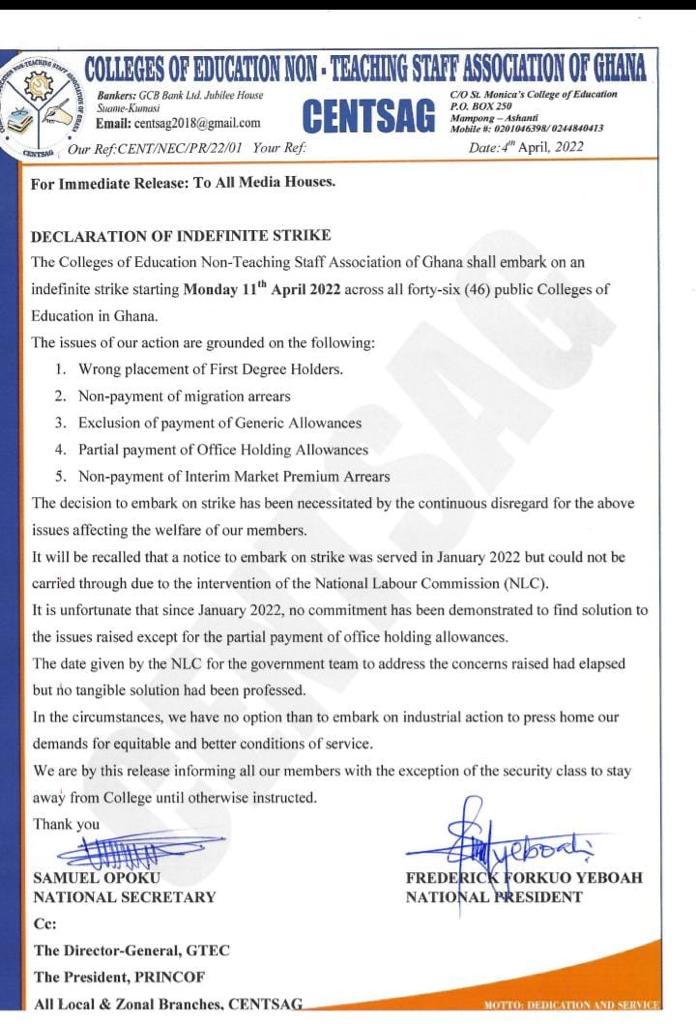 The Association in an earlier statement noted that they had to call off their strike action earlier in January after the National Labour Commission intervened for government to resolve the Association's demands.
"It will be recalled that a notice to embark on strike was served in January 2022, but could not be carried through due to the intervention of the National Labour Commission (NLC). It is unfortunate that since January 2022, no commitment has been demonstrated to find a solution to the issues raised except for the partial payment of office holding allowances. The date given by the NLC for the government team to address the concerns raised had elapsed, but no tangible solution had been professed," the Association noted.
Check The SHS Grading System HERE
Download the 2022 basic and shs Academic Calendar HERE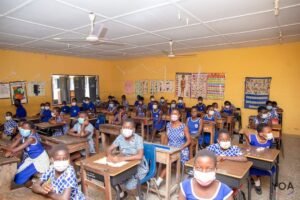 ---
SEND US YOUR STORIES FOR PUBLICATION VIA WHATSAPP NUMBER

0506440219
Get theNaCCA/GES Standard-Based Lesson Plans HERE
---
♥Copyright Notice: Content on This Website is Copyright Protected. No Part of this Content should be Reproduced without the Consent of the Author(s) or Recognition to the source of the Content.© 2020 Ellis Multimedia: EducationGhana.org: All Rights Reserved.♥