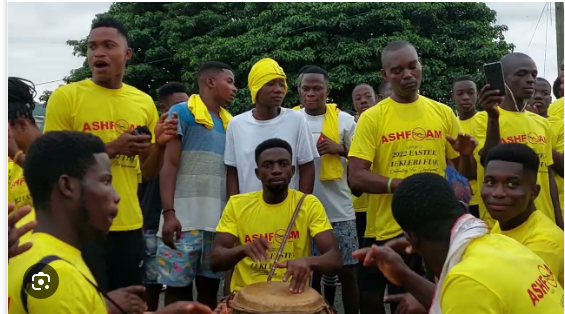 Ferdinand

| EducationGhana |April 12

| Leklebi Fiape Citizens Donate to Primary School, raises fund to Construct Bungalow for Teachers
The Citizens of Leklebi Fiape in the Volta Region have donated some items to the Primary School to help develop Academics and Skills among the School Children in and beyond the community.
The donation took place at the durbar of the 4th edition of the town's Easter Celebration on Sunday, April 1, 2018.
The items include a Printer, A Football set, and a sum of Ghc 100.00.
Presenting the items on behalf of the Chief and People of the Leklebi Fiape township, the Chief of the area, Togbui Deh 1V, thanked the citizens of the Fiape township and urged them to put in their best to help Educate the younger generation.
Togbui Deh also challenged the younger generation to take Education seriously. He lamented Social Vices in Society as a whole, of which the majority has been
related to People who are not in school.
He urged the youth to take their Education Seriously, as it is the bedrock of every country's development.
Speaking to EducationGhana.org after receiving the items, the headmaster of the School, Mr Francis Ahiadzo, expressed his appreciation to the citizens of the township for coming to their aid.
Construction of Teachers' Bungalow
The durbar also saw an appeal for Funds in aid of the Construction of a Bungalow for Teachers in the School which is set to commence after the Easter Celebration.
The Bungalow project which is believed to have been started since 2014,saw the renovation of a bungalow space for three teachers.
Over Gh¢13,000 has been realised during the Durbar of the Easter Celebration, as well as other pledges to continue with the Teachers Bungalow Project.
Construction of Toilet Facilities
The Community also spoke on the need for the construction of Toilet facilities for its members.
The Headmaster also lamented the bad nature of the toilet facilities in the School and called on Government to come to their aid. He also complained about their difficulties in accessing water in the School.
Chief's Leadership at the Celebration
As part of efforts to put up a successful Easter Celebration, the Chief of the Fiape township has been very influential in the majority of the activities marking the celebration.
Torgbui Deh 1V was part of a health walk and a Float through The Principal Streets of all the Sub towns of the Leklebi Traditional Area.
A walk that saw hundreds attend, one of its kind in the Leklebi Traditional Area.
His involvement in Community affairs has been described as one in many by his subjects, a situation many described as Unique Leadership Style that distinguishes him from the sub-chiefs in the Traditional Area.
RECOMMENDED:

Check Also:

How to write and Address a Letter of Sponsorship as a School in the GES HERE

How to write and address any form of Letter to the Ghana Education Service HERE

How to write and Address an Application for Car Maintenance Allowance as a Teacher HERE

Check the SHS Grading System HERE

Download the 2022 basic and shs Academic Calendar HERE

---

SEND US YOUR STORIES FOR PUBLICATION VIA WHATSAPP NUMBER

0506440219

Get theNaCCA/GES Standard-Based Lesson Plans HERE

---

♥Copyright Notice: Content on This Website is Copyright Protected. No Part of this Content should be Reproduced without the Consent of the Author(s) or Recognition of the source of the Content.© 2020 Ellis Multimedia: EducationGhana.org: All Rights Reserved.♥