The Ghana National Association of Teachers (GNAT)  and miLife have  presented a cheque of GHS 23,112.50 to Madam Abigail Adomako Asabere of Islamic Call Basic School at Oforikrom.
The teacher, Madam Abigail has been given the cheque due to her membership of the GNAT Heritage CashBack Plan which qualifies her for the benefit on the grounds of Total Permanent Disability.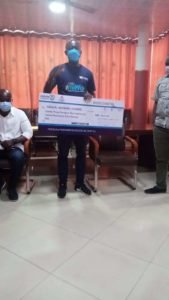 The cheque was presented to Madam Abigail's son Mr Kwabena Kusi Fordjour by the Deputy Ashanti Regional GNAT Secretary, Mr Oppong Amoah and the representative of the Director of Education at Oforikrom, Madam Dorothy Mantey.
Source: EducationGhana.net
---
SEND US YOUR STORIES FOR PUBLICATION VIA WHATSAPP NUMBER 0506440219
Get the Ghana Education Service New Standard – Based Scheme of Learning (SOL) HERE
Get the Ghana Education Service New Standard – Based Curriculum HERE
i
Get the  WAEC Marking Schemes HERE
Get the NaCCA/GES Standard -Based Lesson Plans HERE
Get the WAEC BECE, WASSCE, NTC Licensure Exam and Teachers' Promotion Exam Past Questions HERE