EducationGhana| February 26| GES Recruits UTDBE Graduates: The Ghana Education Service (GES) has recruited graduates of the Untrained Teachers Diploma in Basic Education (UTDBE) in 2022.
The management of the Ghana Education Service has posted some members of the Coalition of Unposted Trained and Registered Teachers under the UTDBE programme into the service to serve in various districts in the country.
The group has been petitioning the Minister for Education, the Director-General of GES since 2018 and 2020 respectively have now seen 148 out of 372 members posted in the current ongoing postings.
In a message from the group's National President- Mr Afelete Avulah and his Regional Representatives,
they are congratulating all 148 recruited members and also edged them to report to their various regions and districts are given latest 1st of March,2020 for further instructions.
They are also asking members to put up all their best to help the education sector because leadership believe the UTDBEs were purposely trained to serve in deprived areas.
The national president also expressed his profound gratitude to the Director-General of GES and his Deputy lawyer Anthony Boateng for their kind-hearted approach to their plea.
"I must say a very big thank you to Director General-Prof. Kwasi Opoku Amankwa, his Deputy, lawyer Anthony Boateng for their continued human approaches to our request to get our members posted. We thank them so much right from 2018 when all this started. I am also grateful to the Registrar of NTC for his efforts in the process."
On the other hand, the leadership is also pleading further on behalf of the leftover members not yet posted.
The leadership is collaborating with the National Teaching Council-NTC to get confirmation of the license numbers of those members as well so they can be recruited too.
For the confirmation of the 148 posted members, an SMS was sent from the Headquarters to the shortlisted members to report at their respective Regions.
The leadership of CUTART is asking all those with the SMS to do the needful while they see to the remaining members.
Download the 2022 basic and shs Academic Calendar HERE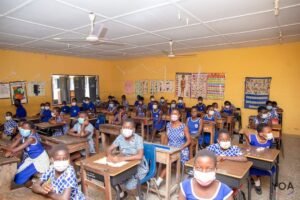 ---
SEND US YOUR STORIES FOR PUBLICATION VIA WHATSAPP NUMBER

0506440219
Get theNaCCA/GES Standard-Based Lesson Plans HERE
---
♥Copyright Notice: Content on This Website is Copyright Protected. No Part of this Content should be Reproduced without the Consent of the Author(s) or Recognition to the source of the Content.© 2020 Ellis Multimedia: EducationGhana.org: All Rights Reserved.♥