Ferdinand

| EducationGhana |September 10| Incredible Achievement: 23-Year-Old Ghanaian Medical Doctor Completes Doctorate Degree in 6 Years
Kwaku Opoku, a 23-year-old Ghanaian medical doctor, has made history by completing his doctorate degree in just 6 years.
Opoku graduated from Prempeh College at the age of 16 in 2017. He was known as "Senior Kwaku" to his juniors and was the Butler House fellowship president.
He then went on to study medicine at the University of Cape Coast, where he graduated summa cum laude.
Opoku's achievement is a testament to his hard work and dedication. He is an inspiration to young people everywhere and shows that anything is possible if you set your mind to it.
 "Meet the remarkable 23-year-old Ghanaian medical doctor who defied the odds, graduating from Prempeh College at 16 and recently completing a 6-year doctorate degree at the University of Cape Coast. His story is a testament to the limitless potential within us all.
Accra, Ghana. When it comes to accomplishments that defy expectations, the story of this remarkable 23-year-old Ghanaian medical doctor stands as a testament to the boundless human potential.
In an extraordinary journey marked by dedication, intellect, and unwavering determination, he has carved a path that should inspire us all.
From Prempeh College to a Doctorate at 23
This incredible journey began at Prempeh College, where, at the tender age of 16, our protagonist completed his high school education in 2017.
Known as "Senior Kwaku" to his juniors, he exhibited early signs of leadership and academic prowess that would eventually shape his destiny.
As if that wasn't impressive enough, he also served as the Butler House fellowship president during his time in school, showcasing his ability to balance academics and leadership responsibilities with finesse.
A Remarkable Academic Odyssey
After conquering high school, he embarked on a six-year-long academic odyssey that culminated in the achievement of a medical doctorate from the University of Cape Coast. Remarkably, he achieved this monumental feat at the tender age of 23, setting a new benchmark for academic excellence and determination.
A Message of Inspiration
The story of this exceptional Ghanaian serves as a powerful reminder that anything is achievable with the right mindset, dedication, and perseverance. His journey from a young high school graduate to a medical doctor is a source of inspiration for us all.
In a world often marked by challenges and setbacks, this young doctor's success story shines brightly, proving that dreams can become reality and that the seemingly impossible is well within reach.
Let his story motivate you to reach for your own goals, no matter how daunting they may seem. With determination and unwavering belief in oneself, there are no limits to what can be achieved.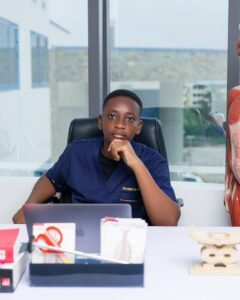 GET THE LATEST UPDATES IN EDUCATION IN GHANA
---
OTHER INSTITUTIONAL RANKINGS YOU SHOULD KNOW
---
OTHER INSTITUTIONAL RANKINGS IN AFRICA FOR YOU
---
UPDATES ON THE TEACHERS' NOTICE BOARD
---
OTHER UNIVERSITY AND COLLEGE ADMISSIONS NEAR YOU
---
APPLY FOR THE LATEST SCHOLARSHIP OPPORTUNITIES NEAR YOU
---
2ND TERM SCHEME OF LEARNING AND LESSON PLAN FOR TEACHERS
---