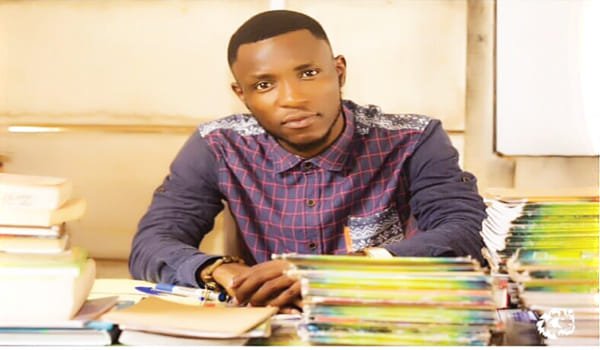 EducationGhana| December 20| Teacher Kwadwo:
 Teacher Kwadow, the embattled Comedian and Teacher, whose actual name is Michael Owusu Afriyie, was 
sacked
 by the 
Ghana Education Service
 (GES) for alleged 
Professional Misconduct
has indicated he always printed his lesson notes but was rejected unless it has been copied into the notebook.
---
Teacher Kwadwo in a press statement on December 19, 2021, indicated that the claims against him were false.
---
Read his statement below:
Failure to Submit Lesson Notes
1. Management claims that I refused to prepare and submit lesson notes to the headmaster for vetting.
---
2. This information is also untrue and skewed to justify a baseless decision.
---
3. In fact, the Committee found that I had at all times typed and printed my lesson notes which I presented to the Headmaster. Except that my headmaster continued to insist that the lesson notes must be handwritten and refused to accept printed lesson notes until the past term.
---
4. It is thus not true that the lesson notes were not prepared and submitted.
---
5. In fact, the major disagreement was whether the GES Code of Conduct requires that lesson notes be handwritten and cannot be typed and printed.
---
6. I note that several schools in the District and across Ghana, accept for teachers to type and print their lesson notes; and that there is no uniform practice across the country. It seems both bizarre and disingenuous for Management to fail to demonstrate which part of the GES Code of Conduct insists that lesson notes must be a handwritten lesson.
---
Also, I challenge teachers to speak up publicly whether their schools all insist on handwriting lesson notes.
---
7. In any event, what purpose does it serve to bar teachers from typing and printing their lesson notes, while at the same time procuring and surcharging teachers with laptops.
---
---
---
SEND US YOUR STORIES FOR PUBLICATION VIA WHATSAPP NUMBER

0506440219
Get theNaCCA/GES Standard-Based Lesson Plans HERE
---
♥Copyright Notice: Content on This Website is Copyright Protected. No Part of this Content should be Reproduced without the Consent of the Author(s) or Recognition to the source of the Content.© 2020 Ellis Multimedia: EducationGhana.org: All Rights Reserved.♥