Ferdinand

| EducationGhana |August 22|Guinness Ghana Ignites Music Scene with Epic Launch of 2023 Ghana DJ Awards – Unleashing Unprecedented Creative Power
"Guinness Ghana amplifies Ghanaian music and culture through the exhilarating kick-off of the 2023 Ghana DJ Awards. A transformative partnership with Smirnoff ushers in a new era of recognition and celebration for DJs"
Accra, Ghana. In a groundbreaking stride towards amplifying Ghana's music and creative arts, Guinness Ghana, the eminent powerhouse in the beverage domain, has taken centre stage as the headline sponsor of the prestigious Ghana DJ Awards.
The dazzling three-year collaboration, with Smirnoff as the distinguished lead brand, is set to revolutionize the Ghanaian music landscape.
Astounding Partnership Redefines Recognition and Empowerment
Merqury Republic's Executive Secretary, Stella Gyimaah Larbi, passionately emphasized the groundbreaking significance of this partnership. "Africa's DJ scene has witnessed incredible growth over the years, showcasing our rich music talents and cultural brilliance. Yet, DJs have remained underappreciated. The Ghana DJ Awards, birthed by the visionary DJ Merqury Quaye, aims to fill this gap, unlocking boundless potential and celebrating our vibrant DJ community."
Guinness Ghana's Pledge for Empowerment and Growth
Yaa Amoah-Owusu, the Marketing Manager for Spirits and RTDs at Guinness Ghana Breweries Limited, affirmed the brand's unswerving commitment to Ghana's entertainment and creative sphere. "Our partnership embodies our dedication to foster growth in the DJ industry, an often-overlooked powerhouse of creativity. We're thrilled to celebrate DJs' contributions, promote inclusivity, and nurture emerging talents while aligning with Ghana's dynamic pop culture."
---
Allowances of National Service Personnel Increased to GH¢715.57
Women in the Classroom Conference Empowers Female Teachers in the Yilo Krobo Municipality
---
Smirnoff: Energizing the Party Spirit
The exhilaration extends with Smirnoff, a brand synonymous with vibrant celebrations, aligning with the Ghana DJ Awards. Just as DJs infuse life into parties, Smirnoff amplifies the revelry. This partnership emerges as a dynamic avenue to connect with exceptional DJs nationwide, acknowledging their influential role within Ghana's entertainment tapestry.
2023 Ghana DJ Awards: Unveiling the Exciting Unprecedented!
The 2023 Ghana DJ Awards bursts forth with exhilarating novelties to thrill audiences across the nation. A whirlwind of innovative initiatives promises to captivate Ghanaians and celebrate the DJs who set the beat.
From electrifying regional and campus roadshows to empowering clinics and the awe-inspiring Smirnoff Ice Dome, this year's event is set to redefine entertainment.
---
USAID/GHANA Launches $14.39 Million Activity to Improve Learning Outcomes in Northern Ghana
Ghana TVET Service Director General Awarded for Outstanding Leadership and Humanitarian Services
GNAT meets with GES Director General to discuss issues bordering on Teachers' Welfare
---
Empowerment and Extravaganza: Unleashing the Future
In its unyielding commitment, Guinness Ghana vows to empower DJs, especially female DJs, through enlightening clinics and capacity-building sessions.
Campus DJs will flex their skills in the Campus DJ Challenge, and the partnership envisions dynamic regional and campus roadshows, fostering an enriched creative community.
With this monumental collaboration, the stage is set for a transformative journey, elevating DJs and their integral role within Ghana's entertainment narrative.
Guinness Ghana and Smirnoff's trailblazing alliance assures the world that Ghana's music and creative arts scene is bound for unmatched glory!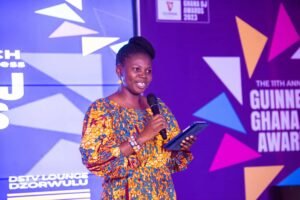 GET THE LATEST UPDATES IN EDUCATION IN GHANA
---
OTHER INSTITUTIONAL RANKINGS YOU SHOULD KNOW
---
OTHER INSTITUTIONAL RANKINGS IN AFRICA FOR YOU
---
UPDATES ON THE TEACHERS' NOTICE BOARD
---
OTHER UNIVERSITY AND COLLEGE ADMISSIONS NEAR YOU
---
APPLY FOR THE LATEST SCHOLARSHIP OPPORTUNITIES NEAR YOU
---
2ND TERM SCHEME OF LEARNING AND LESSON PLAN FOR TEACHERS
---