EducationGhana| June 20| GES to train teachers to eliminate 'chew & pour' in class:
The management of the Ghana Education Service (GES) is set to train public school teachers on how to eliminate the chew & pour phenomenon in the country's education, the Golden Jubilee House announced on Friday, June 17, 2022.
In the social media post sighted by AcademicWeek, the Presidential Palace said the Education Service has collaborated with Practical Education Network (PEN) to train government school teachers on the new teaching method.
"The Ghana Education Service in partnership with Practical Education Network (PEN) will train teachers in hands-on science in a bid to eliminate the "chew, pour, pass, and forget" phenomenon in Ghana's education," the House stated.
According to the Daily Graphic, a training workshop has taken place at the Odorgonno Model Basic School in the Ga Central Municipality with ten science teachers each from Ga Central, Ga North and Weija Gbawe municipalities.
The training, the local media said forms part of the PEN Teacher Roadmap programme which seeks to fully equip teachers with hands-on pedagogy in the teaching of science and mathematics using locally available materials.
"The latest teacher training techniques place a greater emphasis on classroom practices as another way to improve Science, Technology, Engineering, and Mathematics – STEM Education," Ga Central Municipal Education Director said.
The Ga Municipal Director of Education, Winifred Cynthia Aku Gbadago speaking to the newspaper encouraged teachers to use relevant everyday events as a basis for science instructions that foster interest and curiosity.
"In a way, Kids are by nature curious and need to feed their curiosity and deepen their understanding of scientific concepts
This approach encourages students to take more active roles in figuring out how natural events work instead of being taught those lessons by an instructor," Madam Winifred Cynthia Aku Gbadago told the Daily Graphic newspaper.
Citing the lack of teaching and learning materials to practicalize science experiments, she praised PEN for exposing teachers to how they can use low or zero-cost locally available materials to teach science practically and effectively.
The participating government basic school teachers after the training are expected to begin to shift their science lessons from a lecture-based method to a more practical and meaningful learning experience for their learners.
Also Important:
Term 2 JHS 1 TO 3 Sample Weekly  Scheme of Learning >>>>           Download
Term 2 Week 1: Basic 7 (JHS 1) Sample Lesson Plans >>>>>            Download
CCP Curriculum Training Manual for Basic 7 to 9 Teachers >>>            Download
Check the SHS Grading System HERE
Download the 2022 basic and shs Academic Calendar HERE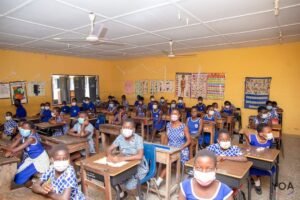 ---
SEND US YOUR STORIES FOR PUBLICATION VIA WHATSAPP NUMBER

0506440219
Get theNaCCA/GES Standard-Based Lesson Plans HERE
---
♥Copyright Notice: Content on This Website is Copyright Protected. No Part of this Content should be Reproduced without the Consent of the Author(s) or Recognition to the source of the Content.© 2020 Ellis Multimedia: EducationGhana.org: All Rights Reserved.♥
Source: AcademicWeek