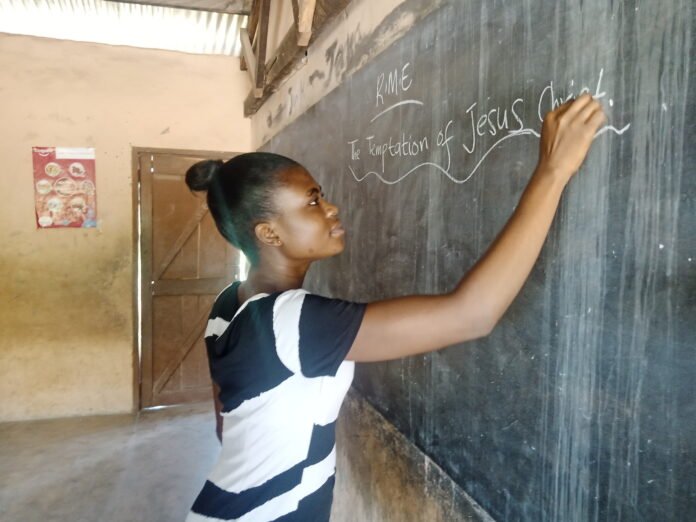 Ferdinand

| EducationGhana |August 20|Empowering Educators: A Comprehensive Guide to Transforming Teachers into Product Ambassadors in Ghana
Teachers are trusted figures in Ghana and have a large and engaged audience. By leveraging their expertise and influence, businesses can boost brand awareness and sales.
Unlocking the Potential: Turning Teachers into Product Ambassadors in Ghana
Introduction
Empowering educators to become product ambassadors in Ghana involves a strategic approach that taps into their expertise and influence. This comprehensive guide offers step-by-step insights to achieve this transformation successfully.
Educators trusted and respected figures in Ghana, possess substantial influence and an engaged audience. This guide presents a comprehensive strategy for transforming teachers into effective product ambassadors, leveraging their expertise and influence to enhance brand awareness and sales.
Turning teachers into product ambassadors in Ghana, Africa or anywhere else, involves a strategic approach to leverage their expertise and influence. Here's a step-by-step guide on how this can be accomplished:
Identifying the Ideal Product: The initial step involves selecting a product or service aligned with the needs and interests of Ghanaian teachers. This could encompass innovative educational technology, classroom tools, or teaching resources, all geared towards enhancing their teaching experience.
Building Strong Relationships: Establishing connections with passionate educators who are open to exploring new products is essential. Through engagement in teacher associations, workshops, seminars, and online communities, networking becomes a crucial tool for identifying suitable ambassadors.
Equipping Ambassadors with Knowledge: Deep comprehension of the product is paramount. Ambassadors must grasp its functionality, benefits, and capacity to address common teaching challenges. This expertise empowers them to be effective advocates.
Selecting Influential Ambassadors: The pivotal step is choosing influential and respected educators. Those with a significant online and offline presence and a genuine passion for education will act as role models and advocates within their educational circles.
Offering Compelling Incentives: Motivating teachers to become ambassadors requires appealing incentives. These could encompass discounts, exclusive feature access, financial rewards, or recognition within the educational community. Incentives should reflect their value to the brand.
Crafting Authentic Content: Encouraging ambassadors to create authentic content showcasing product usage in classrooms is imperative. This could involve generating blog posts, videos, social media content, and presentations that resonate with fellow teachers seeking relatable experiences.
Engaging through Workshops and Webinars: Organizing workshops and webinars allows ambassadors to directly present product features and benefits to their peers, fostering engagement and sharing real-world insights.
Harnessing Online Presence: Ambassadors should maintain a strong online presence across social media, educational forums, and blogs. Sharing success stories, offering tips, and addressing questions contribute to building a broader impact.
Collecting Valuable Feedback: Encouraging ambassadors to gather feedback from their peers enriches the product's development. This feedback informs enhancements and refinements, ultimately enhancing the product's value.
Measuring Impact: Establishing clear metrics helps gauge the program's effectiveness, encompassing adoption rates, user feedback, social media engagement, and sales growth.
Sustaining Support: Continuous support, updates, and issue resolution maintain ambassadors' dedication and enthusiasm.
Scaling the Program: Expanding the ambassador network across various regions of Ghana amplifies the program's reach and influence.
Conclusion: By nurturing authenticity and following these strategic steps, an impactful product ambassador program can be established in Ghana, driving brand recognition and fostering educator empowerment.
---
APA Citation: Ellis, F. (2023). Empowering Educators: A Comprehensive Guide to Transforming Teachers into Product Ambassadors in Ghana. Education Ghana. Retrieved from https://educationghana.org/empowering-educators-a-comprehensive-guide-to-transforming-teachers-into-product-ambassadors-in-ghana/
---
GET THE LATEST UPDATES IN EDUCATION IN GHANA
---
OTHER INSTITUTIONAL RANKINGS YOU SHOULD KNOW
---
OTHER INSTITUTIONAL RANKINGS IN AFRICA FOR YOU
---
UPDATES ON THE TEACHERS' NOTICE BOARD
---
OTHER UNIVERSITY AND COLLEGE ADMISSIONS NEAR YOU
---
APPLY FOR THE LATEST SCHOLARSHIP OPPORTUNITIES NEAR YOU
---
2ND TERM SCHEME OF LEARNING AND LESSON PLAN FOR TEACHERS
---