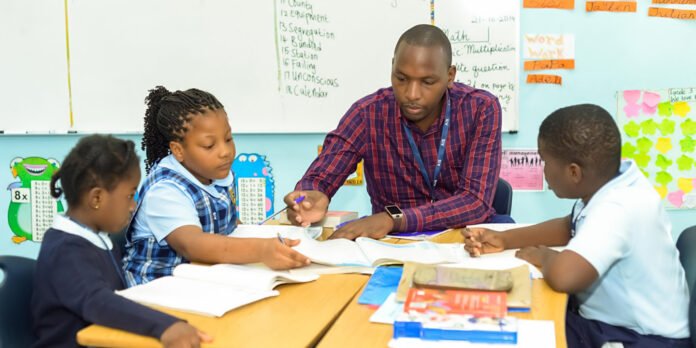 Ferdinand

| EducationGhana |August 23|Boost Your Income: 17 Lucrative Side Hustles for Teachers to Make Extra Money
"Discover 17 powerful side hustles for teachers to supplement their income while excelling in their primary teaching role. From tutoring to online teaching, explore lucrative opportunities now."
Accra, Ghana. Looking to bolster your earnings while staying dedicated to your main role as an educator? We've compiled an array of inventive income-boosting avenues for teachers. Dive into these suggestions to strike a harmonious balance between your core responsibilities and your financial aspirations:
Personalized Tutoring: This is a popular option for teachers who want to use their skills to help students learn. You can tutor students in your subject area, or you can specialize in a particular topic. You can tutor students in person, online, or through a tutoring company. Capitalize on your expertise by offering tailored tutoring sessions in subjects where your proficiency shines. Whether conducted in person or via platforms like Zoom, Skype, or specialized tutoring websites, this approach promises extra income.
Digital Classroom Leadership: Develop and market online courses or educational materials on platforms such as Udemy, Teachable, or Skillshare. This not only shares your knowledge with a broader audience but also generates passive revenue streams. Create online courses or teaching materials and sell them on platforms like Udemy, Teachable, or Skillshare. This way, you can share your expertise with a wider audience and earn passive income.
Crafting Compelling Content: Leverage your writing skills to craft educational content for blogs, websites, or educational publishers. By doing so, you can supplement your income while showcasing your mastery in the field. This can help you earn extra money while showcasing your expertise.
Enriching Summer & After-School Programs: Organize summer camps, workshops, or after-school sessions aligned with your subject expertise. Parents consistently seek supplementary educational avenues for their children.
Innovative Curriculum Design: Create educational resources, lesson plans, or curricula to vend to fellow teachers or educational institutions. Platforms like Teachers Pay Teachers open doors to marketing your educational materials.
Authoritative Book Penning: Author educational books, workbooks, or study guides tied to your area of expertise. Options span from traditional publishing to self-publishing, enabling you to reach a broader audience.
Educational Consultation: Extend your know-how to schools, educational bodies, or enterprises as an educational consultant. Your insights on curriculum development and teaching strategies could prove invaluable.
Empowering Workshops & Seminars: Lead sessions for fellow educators, delving into impactful teaching methods, classroom management, and pertinent themes to foster effective learning environments.
Online Engagement Platforms: Participate in online platforms that remunerate educators for answering queries, elucidating concepts, or partaking in discussions germane to your area of mastery.
Adjunct Teaching: If qualifications allow, partake in part-time teaching roles at community colleges or universities in tandem with your primary teaching endeavour.
Language Proficiency Sharing: Capitalize on your fluency in a foreign language by providing lessons to students or adults eager to learn.
Virtual Academies: Some online educational platforms contract teachers to create and deliver online courses spanning diverse subjects.
Educational Online Presence: Foster an educational YouTube channel or podcast disseminating valuable insights, content, and tips. This avenue offers monetization avenues like ads, sponsorships, or Patreon.
Assessment & Feedback Services: Offer grading and assessment services for online courses or educational programs.
Educational Product Trade: Develop and market educational products such as flashcards, learning games, or comprehensive kits.
Consulting: Offer your expertise to schools, educational organizations, or businesses as an educational consultant. You could provide advice on curriculum development, teaching strategies, and more.
Educational YouTube Channel or Podcast: Create a YouTube channel or podcast where you share educational content, tips, and insights. You can monetize these platforms through ads, sponsorships, or Patreon.
---
Government's Bold Directive Shakes Ghana's Education: Salaries Withheld Amidst CETAG Strike
Important steps to becoming Product or Brand Ambassadors as Teachers in Ghana
Empowering Educators: A Comprehensive Guide to Transforming Teachers into Product Ambassadors in Ghana
Empowering Educators: Unveiling Lucrative Ambassadorial Roles for Teachers with Impactful Pros and Potential Pitfalls
USAID/GHANA Launches $14.39 Million Activity to Improve Learning Outcomes in Northern Ghana
---
These are just a few ideas for how teachers can make money outside of their regular teaching job. There are many other possibilities, so be creative and find something that works for you.
Here are some additional tips for making money as a teacher:
Network with other teachers. Get to know other teachers in your area and let them know that you're looking for ways to make extra money. They may be able to give you leads on opportunities or refer you to their clients.
Get involved in your community. Volunteer your time to local organizations that work with children. This is a great way to build your resume and make connections that can lead to paid opportunities.
Stay up-to-date on your skills. Take professional development courses or workshops to stay up-to-date on the latest teaching methods and trends. This will make you more marketable and increase your chances of landing paid gigs.
Be persistent. It takes time and effort to find good-paying side hustles. Don't give up if you don't find success right away. Keep networking, learning, and applying for opportunities, and eventually, you'll find something that works for you.
It's paramount to strike a balance between these supplementary ventures and your core teaching responsibilities to stave off burnout. Always ensure alignment with your school's policies. Capitalize on these lucrative channels, and forge a path towards both financial prosperity and pedagogical excellence.
Remember that these possibilities are just the tip of the iceberg. Networking, staying involved in your community, enhancing your skills, and maintaining persistence is key to unearthing successful side ventures as a teacher
---
---
APA Citation: Ellis, F. (2023).Important steps to becoming Product or Brand Ambassadors as Teachers in Ghana. Education Ghana. Retrieved from https://educationghana.org/boost-your-income-17-lucrative-side-hustles-for-teachers-to-make-extra-money/
---
---
GET THE LATEST UPDATES IN EDUCATION IN GHANA
---
OTHER INSTITUTIONAL RANKINGS YOU SHOULD KNOW
---
OTHER INSTITUTIONAL RANKINGS IN AFRICA FOR YOU
---
UPDATES ON THE TEACHERS' NOTICE BOARD
---
OTHER UNIVERSITY AND COLLEGE ADMISSIONS NEAR YOU
---
APPLY FOR THE LATEST SCHOLARSHIP OPPORTUNITIES NEAR YOU
---
2ND TERM SCHEME OF LEARNING AND LESSON PLAN FOR TEACHERS
---