Ferdinand

| EducationGhana |July 14| BIHECO clashes with SPACO over 2023 NSMQ Volta/Oti Zonal Championship Today
Kpando-Based Bishop Herman College (BIHECO) is set to clash with St Pauls Seminary SHS (SPACO) in a top-rated contest at the Semi Final stage of the 2023 National Science and Maths Quiz Volta Oti Zonal Championship.
BIHECO, who were seeded did not yet feel the heat of the competition, unlike SPACO who qualified through the regional qualifiers.
The two rival All male Second Cycle institutions are expected to show academic dominance today, July 14, 2023.
To SPACANS, a win over BIHECO shall not only see them through to the finals for a possible win to climax their 65th Anniversary celebration scheduled for the coming week but also use the opportunity to convince OLA Girls SHS, Ho to finally come to their side against BIHECO alongside St Catherine SHS and an all-loving Mawuko Girls SHS, making SPACO not only an Academic Giant in the Zone but also the choice of any beautiful lady from any of the all-girls SHSs across the zone.
To BIHECO, it will be a great honour to win the zonal championship back-to-back after winning the trophy in 2022 to raise the bar ahead of SPACO and take over the all-girls school territories in the zone.
---
Fixtures for the 2023 NSMQ Volta/Oti Zonal Championship
T-TEL celebrates its 3rd anniversary as a Ghanaian NGO
Blame Teachers but not Ofori Atta for Ghana's Economic Challenges – Dep. Minister
GES Goes Paperless with the Smart Workplace System
Teacher Licensing Reforms: Examination Pass Mark to be Increased from 50% to 70% – NTC
---
The Volta/Oti Zone shall be represented by 19 senior high schools from the Volta and Oti Region who were selected after competing in their regional qualifiers as well as some seeded due to their performance during the 2022 edition of the National Science and Maths Quiz Competiton.
St Catherine SHS was added as part of three schools that were recalled for getting beyond 40 points during the regional qualifiers.
The First contest fixtures for the Volta Oti Zonal championship scheduled for today, July 14, 2023, are listed below.
CONTEST 1 
Bishop Herman College
Awudome SHS
St Pauls Seminary SHS
E.P.C Mawuko Girls SHS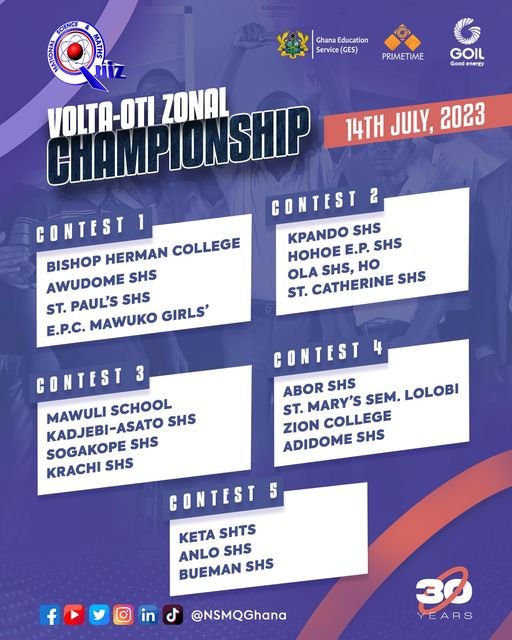 GET THE LATEST UPDATES IN EDUCATION IN GHANA
---
OTHER INSTITUTIONAL RANKINGS YOU SHOULD KNOW
---
OTHER INSTITUTIONAL RANKINGS IN AFRICA FOR YOU
---
UPDATES ON THE TEACHERS' NOTICE BOARD
---
OTHER UNIVERSITY AND COLLEGE ADMISSIONS NEAR YOU
---
APPLY FOR THE LATEST SCHOLARSHIP OPPORTUNITIES NEAR YOU
---
2ND TERM SCHEME OF LEARNING AND LESSON PLAN FOR TEACHERS
---