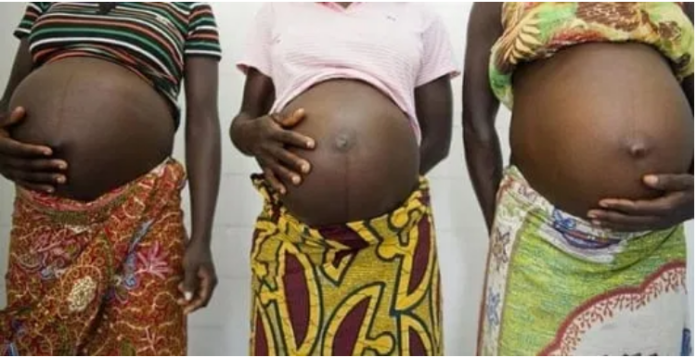 Ferdinand

| EducationGhana |August 13|Teen Pregnancy Concerns Rise in Ghana's 2023 BECE: Disturbing Numbers in Several Districts
Alarming reports of teenage pregnancies have surfaced amongst candidates sitting for the 2023 Basic Education Certificate Examination (BECE) in Ghana.
The Birim North District has witnessed eight candidates who arrived for their exams while pregnant. Similarly, the Nkwanta South District is facing a situation where 13 pregnant girls are participating in the BECE.
In the Abuakwa North Municipality, one candidate is grappling with pregnancy. The Bia West District presents an even more concerning scenario with seven nursing mothers and 14 pregnant girls among the BECE candidates.
The Ghana Education Service (GES) is actively collaborating with relevant stakeholders to tackle the issue of teenage pregnancies among BECE candidates.
The GES has affirmed its commitment to provide necessary support to these pregnant candidates to ensure their successful completion of the exams.
Teenage pregnancies are a pressing concern in Ghana, with around 23% of girls aged 15-19 being pregnant or having given birth, as highlighted by the Ghana Health Service.
The consequences of such pregnancies for young girls are dire, including school dropout, adverse health outcomes for both mother and child, and heightened risk of poverty.
Several factors contribute to the prevalence of teenage pregnancies in Ghana, notably poverty, early marriages, limited access to education and sexual health services, and gender disparities. Addressing these factors is imperative for the GES and other stakeholders to effectively combat the rising trend of teenage pregnancies in Ghana.
In the Awutu Senya West District situated in the Central Region, the issue persists. Reports from the ongoing exams reveal that eight candidates are pregnant, while an additional nursing mother was identified on the first day of the BECE in the district.
This local scenario is reflective of the larger predicament of teenage pregnancies within rural communities, which is evident from statistics during the 2023 BECE.
Rural areas appear to be disproportionately affected by this issue, prompting discussions about the lack of comprehensive sexual education and accessible family planning resources.
Some communities have shared successful experiences with implementing family planning measures to prevent such incidents among their young girls.
This year's BECE has brought forth notable occurrences for the Municipal Ghana Education Service (GES). Out of a total of 10 marked absentees, one candidate is pregnant.
Mr. Samson Akoto, the Public Relations Officer of the Abuakwa North Municipal GES, clarified that among the absentees, only one female was sick, while the others were equally divided between genders. Mr. Akoto reported that this year's documented cases of pregnant candidates were significantly lower compared to the seven instances recorded in the previous year.
The introduction of various interventions, including initiatives like KOICA for girls and sensitization on the consequences of teenage pregnancies and abortion, contributed to this reduction. The establishment of a girls' club also played a pivotal role in the improved outcomes.
A total of 1,636 BECE candidates were received this year in the municipality, spanning across 58 public and private schools distributed among five centers. Although there have been no reported casualties or instances
Background and Increased Candidature
The total number of candidates participating in the 2023 BECE stands at 602,457, marking an increase of 49,049 candidates compared to the previous year's figure of 553,408. This year's examination encompasses both school and private candidates and takes place over a span of five days, from Monday, August 7 to Friday, August 11, 2023.
Exam Schedule and Participation Breakdown
The examination schedule for this year's BECE is as follows:
Day 1: Religious and Moral Education, English Language
Day 2: Integrated Science, Ghanaian Language
Day 3: Social Studies, Basic Design and Technology
Day 4: Mathematics, Information and Communication Technology
Day 5: French
Out of the total candidature, 600,714 candidates are registered for the BECE for School Candidates (BECE-SC), with a gender breakdown of 300,323 males and 300,391 females. Additionally, 1,743 candidates will be sitting for the BECE for Private Candidates (BECE-PC), consisting of 889 males and 854 females.
A significant number of 18,983 junior high schools, both public and private, are participating in the BECE-SC, which is primarily designed for students who have completed nine years of basic education.
Examination Centers and Personnel
The BECE-SC will be conducted across 2,137 examination centres, each supervised by one responsible individual. The examination process will involve 2,000 assistant supervisors and 21,025 invigilators to ensure its smooth execution. As for the BECE-PC, it will take place in 15 examination centres, each overseen by a dedicated supervisor, supported by 60 invigilators and one assistant supervisor.
Regional Representation
Regionally, the Ashanti Region leads in terms of candidate representation with 117,084 candidates, followed by the Greater Accra Region with 112,894 candidates. The Central Region follows with 68,035 candidates, while the Western and Western North regions together contribute 60,528 candidates.
Other regions like the Eastern Region, Ahafo, Bono, Bono East, Northern, North East, Savannah, Volta, Oti, Upper East, and Upper West are also participating with varying candidate numbers.
Private Candidates Breakdown
In the case of the BECE-PC, meant for both re-sitters and first-time candidates, the Greater Accra Region leads with 565 candidates, followed by the Central Region with 213 candidates.
The Upper West Region has 175 candidates, and the Ashanti Region accounts for 157 candidates. The rest of the regions also participate, each contributing a varying number of candidates.
WAEC's Vigilance Against Malpractices
The West African Examinations Council (WAEC) has expressed its commitment to conducting a smooth and incident-free BECE this year. WAEC emphasizes the importance of candidates and school authorities maintaining proper conduct throughout the examination period.
In a press conference, the council underscored its determination to expose any schools involved in examination malpractice. Additionally, WAEC has initiated an investigation into cases of unqualified candidates registered at the Ayi Mensah Basic School.
In conclusion, the 2023 BECE has brought attention to the pressing issue of teenage pregnancies in rural areas, particularly highlighted by the Awutu Senya West District's unfortunate lead in this aspect. The examination ended as the last exam for the old curriculum.
GET THE LATEST UPDATES IN EDUCATION IN GHANA
---
OTHER INSTITUTIONAL RANKINGS YOU SHOULD KNOW
---
OTHER INSTITUTIONAL RANKINGS IN AFRICA FOR YOU
---
UPDATES ON THE TEACHERS' NOTICE BOARD
---
OTHER UNIVERSITY AND COLLEGE ADMISSIONS NEAR YOU
---
APPLY FOR THE LATEST SCHOLARSHIP OPPORTUNITIES NEAR YOU
---
2ND TERM SCHEME OF LEARNING AND LESSON PLAN FOR TEACHERS
---