EducationGhana| January 14 | 2022 CCP Workshop: Junior High School Teachers who attended the Common Core Programme (CCP) Workshop from January 12 to 14, 2022 have complained about the inability of the Ghana Education Service to pay them the expected Transportation fees as well as allowances.
Reports reaching EducationGhana indicate that some teachers across the country were given part of the amount for Transportation and feeding whilst others received noting as at the time of making this report.
The teachers said they were promised payment starting from Monday in some districts and no statement was issued to that effect for other districts.
Training Modalities for District Level
The District Training will be for 3 days (January 12 to 14) for the teachers and they will be provided with water, breakfast, lunch and TNT.
The amount for TNT is GH¢20, Breakfast is GH¢10. TNT and breakfast money to be given to the teachers in cash.
NB: Regional Directors are to ensure that a good meal is gotten out of the amount for lunch so that teachers do not complain.
Facilitators
Facilitators at the District level are to receive a facilitation fee of GH¢100 a day for the 3 days.
For TNT for facilitators, GH¢30 a day for 3 days. Snack lunch and water is GH¢25 a day.
….Note that monies for the organization of these workshops are tax-free.
---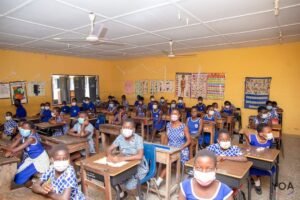 ---
SEND US YOUR STORIES FOR PUBLICATION VIA WHATSAPP NUMBER

0506440219
Get theNaCCA/GES Standard-Based Lesson Plans HERE
---
♥Copyright Notice: Content on This Website is Copyright Protected. No Part of this Content should be Reproduced without the Consent of the Author(s) or Recognition to the source of the Content.© 2020 Ellis Multimedia: EducationGhana.org: All Rights Reserved.♥